This is hosted at Good Books And Good Wine: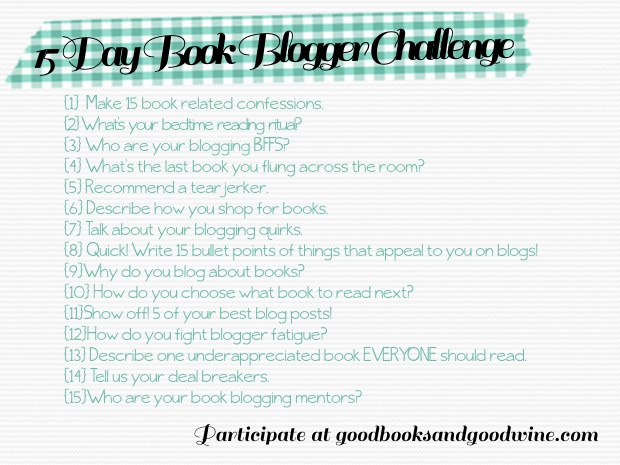 Today's topic is all about things that appeal to me on blogs! I don't know if I'll get to 15 items but I'll try!
Reviews of books that are new to me – I love hearing about new books, whether they're new releases, or books that have been out for a while but that I haven't heard about. I'm always looking for more books to add to that TBR list!
Reviews of books that I've read – I like to see how others feel about books that I've read and loved (or not!).
Writing style – After following a number of other blogs, I've come to realize that I really prefer to read a more personal style of writing/reviewing than dry and academic.
Design – I like blogs that look nice and clean, without a lot of clutter or ads, and that have interesting designs/graphics and colour. It just makes it easier and more fun to read when the site looks good!
About Me section – I like to learn a little about the blogger, to get a sense of who he/she is. I like to find out his/her likes and interests (besides reading!).
GIFs – I don't use them, partly because I'm not really sure how and partly because I don't think I'm funny/clever enough to use them well, but I get a kick out of seeing them in other reviews. There are some really funny ones out there, and when they make me laugh out loud, I show them to my husband (who usually doesn't get as big a kick out them as I do).
Critical reviews – I like to see reviews that show the writer has really thought about the book. I don't necessarily mean negative reviews, but something other than a glowing, gushing review of every single book. Sometimes the more critical reviews tell me more about a book.
Links to Twitter or Goodreads – I like seeing a blogger's links to social media accounts, because I'm really getting into interacting with other bloggers.
I didn't quite make it to 15 items, but there you go – a solid eight things that appeal to me on other blogs!