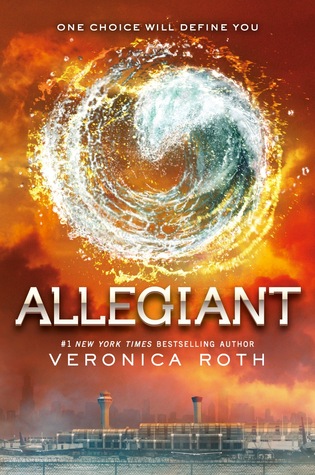 Allegiant
By Veronica Roth Series:
Divergent #3
Source
Purchased
Published by
Katherine Tegen Books
on October 22, 2013
Rating:

Cover image and summary from Goodreads:

The faction-based society that Tris Prior once believed in is shattered—fractured by violence and power struggles and scarred by loss and betrayal. So when offered a chance to explore the world past the limits she's known, Tris is ready. Perhaps beyond the fence, she and Tobias will find a simple new life together, free from complicated lies, tangled loyalties, and painful memories.

But Tris's new reality is even more alarming than the one she left behind. Old discoveries are quickly rendered meaningless. Explosive new truths change the hearts of those she loves. And once again, Tris must battle to comprehend the complexities of human nature—and of herself—while facing impossible choices about courage, allegiance, sacrifice, and love.

Told from a riveting dual perspective, Allegiant, by #1 New York Times best-selling author Veronica Roth, brings the Divergent series to a powerful conclusion while revealing the secrets of the dystopian world that has captivated millions of readers in Divergent and Insurgent.
SPOILER ALERT! 
My thoughts about this book are still all over the place. I really liked some parts of this book, but there were other parts that I did not like at all. I've spent a lot of time trying to organize my thoughts but I think this is going to be a rambling post.
First of all, this book, unlike the previous two, was narrated by both Tris and Tobias in alternating chapters. While I liked the idea of this dual narration initially, particularly because it would mean a peek into Tobias' head, in actuality I had a tough time distinguishing between their chapters. I didn't feel like I was reading two distinct voices.
I had heard that people were revealing a major spoiler, and without knowing exactly what it was but judging by the level of outrage on the internet, I suspected that either Tobias or Tris would die. When it turned out to be Tris, I wasn't surprised, but I still found both the scene itself and the fact that Veronica Roth went there very moving. Throughout the series, we have been shown time and again how much danger Tris was in, how risky her behavior was, how often she risked her life – and so when she lost her life in sacrifice to what she saw as a greater cause, I thought it was a fabulous decision on the author's part. I understand that it may upset some readers, but in my opinion, it's Veronica Roth's story and she can do what she wants. And a lot of people die in this series: Tris's parents, Will, Uriah, and more – because they were living dangerous, violent lives. It was sad but felt in keeping with the overall story. And although it saddened me, it certainly did not anger me.
I really liked reading about Tris's relationship with Caleb, in the wake of the previous books' events. As I've said before, I'm always intrigued by sibling relationships in books, and given the tension between Caleb and Tris, I was really curious about what would happen next and if they'd be able to move forward.
Plot-wise, there was a lot going on in this book. I didn't feel drawn in, excited, and intrigued, like I did in Divergent and Insurgent. The story of the Bureau and the 'outside world', the factions as experiments – it all felt muddled to me. It seemed that they were constantly finding another battle or another enemy, or there was another attack to plan. It felt like a lot of the same. And the idea of/reason behind the experiments and the true meaning of divergence didn't excite me. I feel that I understand where Veronica Roth went with the story but I wasn't excited by it. Often I felt that I was reading a different story than that of Insurgent and Divergent.
I suppose that what it comes down to is that I didn't love the story. And believe me, I really wanted to love this book. I didn't love it but I didn't hate it. I felt like it was fine. Not great, not bad, just fine. In the end though, I felt that I had a resolution, that there was hope, and the characters (especially Tris, Christina, and Cara) saved it for me. As for Tris and Tobias's romance, I was frustrated with their pledges to tell each other the truth but then fall back into arguing and keeping secrets. And I had very lukewarm feelings about a lot of the new characters, like Nita, Michael, and David.
I really liked the epilogue. I enjoyed seeing how Tobias was doing after Tris's death, and how people were rebuilding Chicago. It wasn't necessarily the finale that I was hoping for, but it certainly had a nice sense of finality to it.
As you can see, I have very mixed feelings about this book, partly because it felt so different from the rest of the series – but I certainly don't feel as strongly about it as the people who have been making threats against Victoria Roth! Seriously people!! As much as I love books – which is a lot – they are just books, not real life. Don't do that. Don't behave poorly. Don't threaten an author because she didn't end her story the way you wanted.
So how do I rate a book that has given me such confused and mixed up feelings? That at times angered and then impressed me? To my surprise, I'm going to rate it four stars out of five. Veronica Roth told her story – Tris's story –  and she didn't pull any punches. The story had a proper ending, and I was left with a feeling of hope and optimism. And I am certainly looking forward to what she writes next!