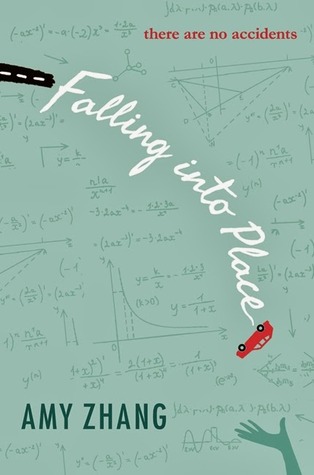 Falling Into Place
By Amy Zhang Source
Received from the publisher at BEA
Published by
Greenwillow Books
on September 9, 2014
Received from the publisher at BEA in exchange for an honest review. This does not affect my opinion of the book or the content of my review.
Rating:

Cover image and summary from Goodreads:

On the day Liz Emerson tries to die, they had reviewed Newton's laws of motion in physics class. Then, after school, she put them into practice by running her Mercedes off the road.

Why? Why did Liz Emerson decide that the world would be better off without her? Why did she give up? Vividly told by an unexpected and surprising narrator, this heartbreaking and nonlinear novel pieces together the short and devastating life of Meridian High's most popular junior girl. Mass, acceleration, momentum, force—Liz didn't understand it in physics, and even as her Mercedes hurtles toward the tree, she doesn't understand it now. How do we impact one another? How do our actions reverberate? What does it mean to be a friend? To love someone? To be a daughter? Or a mother? Is life truly more than cause and effect? Amy Zhang's haunting and universal story will appeal to fans of Lauren Oliver, Gayle Forman, and Jay Asher.
This is one of those books that I'd been hearing about all year. It had some major buzz, partly because the author was in high school when she wrote it, and so I was very excited to get a copy at BEA in May.
I know that my review will not adequately explain how great this book is. The writing is fantastic, the story pulled me in immediately (I read the book in one day), the narrator was unique, and I loved the non-linear structure.
I feel like I got to know Liz, and the other characters, very well because of the way the story was told. It jumped back and forth in time, without being confusing, and so I was able to see how Liz changed over time, how she felt about some of the awful things she'd done, and the impact of her behaviour and her choices on herself and on others.
By the end of the book, because I'd come to care about the characters (even though I wanted to scream at them at times), my heart was in my throat. I was anxious as I got closer to the end of the book, and I love when an author's work has that sort of impact on me.
This is a heavy book, and it addresses a lot of serious issues, including bullying, addiction, eating disorders, and more. At times, I felt as though there were so many of these issues crammed into the book that it was overwhelming.
However, I loved the emotional journey that I experienced, and the writing was so impressive. I am definitely eager to read what Amy Zhang writes next. Falling Into Place is a must-read!