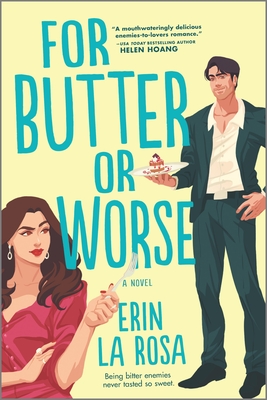 For Butter Or Worse
By Erin La Rosa Source
Received from the publisher
Published by
HQN
on July 26, 2022
Received from the publisher in exchange for an honest review. This does not affect my opinion of the book or the content of my review.
Rating:

All chef Nina Lyon wants is to make a name for herself in the culinary world and inspire young women everywhere to do the same. For too long, she's been held back and underestimated by the male-dominated sphere of professional kitchens, and she's had enough. Now, as co-host of the competitive reality TV series The Next Cooking Champ!, she finally has a real shot at being top tier in the foodie scene.
Too bad her co-host happens to be Hollywood's smarmiest jerk.

Restaurateur Leo O'Donnell never means to get under Nina's skin. It just seems to happen, especially when the cameras are rolling. It's part of the anxiety and stress he has come to know all too well in this line of work. So nothing prepares him for the fallout after he takes one joke a smidge too far and Nina up and quits—on live TV.

To make matters worse, the two are caught in what looks like a compromising situation by the paparazzi…and fans of the show go absolutely nuts. Turns out, a "secret romance" between Nina and Leo may just be what their careers need most.

Now all they have to do is play along, without killing each other...and without catching feelings. Easy as artisanal shepherd's pie. Right?
I picked this up because I was in the mood for a bit of a lighter read, and I usually like enemies to lovers and fake dating stories, so I thought this would be just my kind of read.
Unfortunately, I did not enjoy this one. I'm not totally sure why, but nothing about it really worked for me. I didn't think the banter was funny, I didn't care about the side characters, I didn't care for the big public apology and groveling, and worst of all, I just didn't believe or buy into the romance.
Like I said, I usually like enemies to lovers, but in this case I just could not grasp that the characters hated each other for something like 3 years while working together, but then saw another side of each other and developed feelings when told to spend more time together for the sake of their careers.
I really wanted to like this one, and all of the food and cooking and eating stuff was pretty fun, but when you don't like the characters or care for their relationship, it's pretty hard to enjoy a romance novel. I wish this had worked for me, but lots of other readers have loved it, so I seem to be the odd one out!