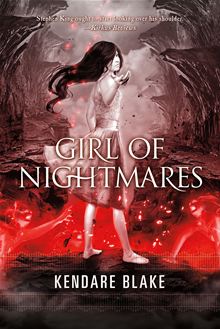 Girl of Nightmares
By Kendare Blake Series:
Anna #2
Source
Library
on August 7, 2012
Rating:

It's been months since the ghost of Anna Korlov opened a door to Hell in her basement and disappeared into it, but ghost-hunter Cas Lowood can't move on.

His friends remind him that Anna sacrificed herself so that Cas could live—not walk around half dead. He knows they're right, but in Cas's eyes, no living girl he meets can compare to the dead girl he fell in love with.

Now he's seeing Anna everywhere: sometimes when he's asleep and sometimes in waking nightmares. But something is very wrong...these aren't just daydreams. Anna seems tortured, torn apart in new and ever more gruesome ways every time she appears.

Cas doesn't know what happened to Anna when she disappeared into Hell, but he knows she doesn't deserve whatever is happening to her now. Anna saved Cas more than once, and it's time for him to return the favor.
I read the first book in this series, Anna Dressed in Blood, a few months ago and I totally loved it. As soon as I realized there was a second book, I put my name on the library's waiting list!
There may be slight spoilers for Anna Dressed in Blood (which you should definitely read before Girl of Nightmares).
No surprise, I loved this book. In fact, I may love it even more than Anna Dressed in Blood. There was more Cas, more Thomas and Carmel, more spooky, creepy scenes…I wish there was another book about Cas and his world that I could read right away!
At the end of the previous book, Anna saved the lives of Cas and his friends by dragging the Obeahman to Hell, but now that she's gone, Cas has begun to see her everywhere: at school, while he's on jobs hunting ghosts, in his dreams…and he sees terrible things happening to her. Cas decides that not only is he going to get her out of Hell, but he's going to bring her back.
I liked learning more about the athame, the weapon that Cas uses to fight ghosts. It has its own history, and this book examines its origins and purpose. I loved that Thomas and Carmel were still around, and that the action (mostly) stayed in Thunder Bay (Canada!). As Cas moves forward with his plan to find and free Anna, his father's old friend Gideon becomes involved…I don't want to spoil too much of the plot, but I loved the return of so many characters mixed in with some new ones. I wasn't really sure who Cas could trust, and it kept me reading late into the night!
I loved the horror and supernatural elements of this book, and without giving too much away (I hope), the scene in the Suicide Forest was definitely scary! It was the first thing I've read in a long time that really frightened me, and I loved it!
There isn't much I can say about this book that I haven't already said about Anna Dressed in Blood – I completely loved it. It was funny, scary, suspenseful, and surprisingly moving at times. I absolutely recommend this series. If only there were more books!