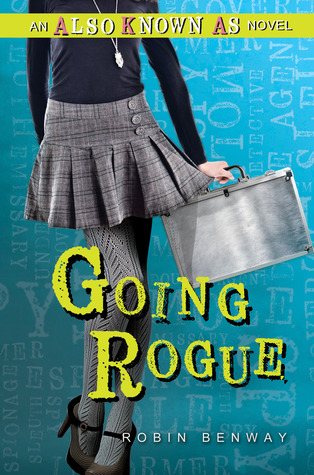 Going Rogue
By Robin Benway Series:
Also Known As #2
Source
Library
Published by
Walker Childrens
on January 14, 2014
Rating:

Cover image and synopsis from Goodreads:

Being permanently based in a local New York City high school as an undercover operative has its moments, good and bad, for 16-year-old safecracker Maggie Silver. Pros: More quality time with her former mark-turned-boyfriend Jesse Oliver and insanely cool best friend, Roux. Getting to spend quality time with her semi-retired and international spy honorary uncle, Angelo. Cons: High school and the accompanying cliques, bad lunches, and frustratingly simple locker combinations. But when Maggie's parents are falsely accused of stealing priceless gold coins, Maggie uses her safecracking skills to try and clear their names. Too bad it only serves to put her and everyone she loves in danger. Maggie and her "new team" flee to Paris where they must come up with a plan to defeat their former allies.
I adored Also Known As when I read it last year, and was so so so excited when I learned that there would be a sequel! When I was finally able to pick this up from the library, I expected to jump right back into Maggie's world of espionage, rounded out with a cute boyfriend and her hilarious best friend, Roux. I was not disappointed!
I loved that the mystery Maggie was trying to solve involved clearing her parents from some pretty heavy accusations by The Collective, their employer, which may not be as good an organization as it once seemed. I loved the twists and turns in this book.
Maggie also has to deal with the fall out of letting Jesse and Roux in on her secrets in Also Known As. There are complications because she has to keep some secrets, which Jesse and Roux try to understand but which also leaves them feeling left out of her life, not to mention that they worry about her now that they know how dangerous her life can be.
I loved the action and suspense in this book, and I loved the change of scenery that took Maggie and her friends to Paris, but the stand out in this book, as it was in Also Known As, was the humour. All of Robin Benway's books have made me laugh out loud and this one was no exception!
If you loved Also Known As, I think you'll love this book just as much. And if you haven't read this series yet, what are you waiting for?? These books are funny, exciting, intriguing, and well-paced. You should definitely check them out!