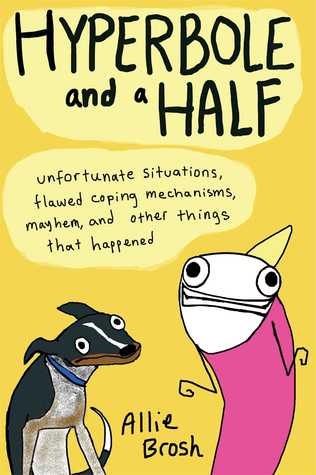 Hyperbole and a Half
By Allie Brosh Source
Purchased
Published by
Touchstone
on October 29, 2013
Rating:

Cover image and summary from Goodreads:

This is a book I wrote. Because I wrote it, I had to figure out what to put on the back cover to explain what it is. I tried to write a long, third-person summary that would imply how great the book is and also sound vaguely authoritative--like maybe someone who isn't me wrote it--but I soon discovered that I'm not sneaky enough to pull it off convincingly. So I decided to just make a list of things that are in the book:

Pictures
Words
Stories about things that happened to me
Stories about things that happened to other people because of me
Eight billion dollars*
Stories about dogs
The secret to eternal happiness*

*These are lies. Perhaps I have underestimated my sneakiness!
I'd read the Hyperbole and a Half website from time to time, but not regularly. When I heard that Allie Brosh had book coming out, I was intrigued, and after flipping through it a few times at the bookstore, I finally decided to buy it and boy am I glad I did!
I really wanted to take my time reading this because it was so funny that I didn't want it to be over. I was laughing out loud every time I read this book, and I read it in public quite often (on the bus, at the laundromat, etc.). Honestly, there's just something about the way Brosh writes that is funny but also really insightful, and the art is so delightfully crude that I crack up all over again just looking at the pictures.
She writes about her dogs, her childhood, the time a goose came into her house and attacked, depression (brutally honest and real and somehow explains something that can feel entirely unexplainable), and more. I think many of us can find something here that we identify with.
I absolutely recommend this book. If you're a regular visitor to the website, you may have read the majority of these entries already, but if you're new to Brosh's work or have only read some of her work, I think you'll be highly entertained! ALL THE STARS!