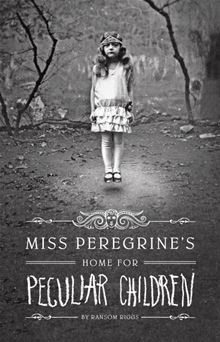 Miss Peregrine's Home for Peculiar Children
By Ransom Riggs Series:
Miss Peregrine's Home for Peculiar Children #1
Source
Library
Published by
Quirk
on June 7, 2011
Rating:

A mysterious island. An abandoned orphanage. A strange collection of very curious photographs. It all waits to be discovered in Miss Peregrine's Home for Peculiar Children, an unforgettable novel that mixes fiction and photography in a thrilling reading experience. As our story opens, a horrific family tragedy sets sixteen-year-old Jacob journeying to a remote island off the coast of Wales, where he discovers the crumbling ruins of Miss Peregrine's Home for Peculiar Children. As Jacob explores its abandoned bedrooms and hallways, it becomes clear that the children were more than just peculiar. They may have been dangerous. They may have been quarantined on a deserted island for good reason. And somehow-impossible though it seems-they may still be alive. A spine-tingling fantasy illustrated with haunting vintage photography, Miss Peregrine's Home for Peculiar Children will delight adults, teens, and anyone who relishes an adventure in the shadows.
This has been on my TBR for a while. I was intrigued by the author's use of old photographs with the novel, and finally picked up a copy from the library.
I think I liked the idea of this book more than I liked the book itself. I read it, but I didn't feel drawn to Jacob or his story. The story begins with the death of Jacob's grandfather Abe, and we learn that Abe used to tell Jacob stories about Miss Peregrine's, and even had a collection of old photos of the children living there that he used to show Jacob. Jacob then journeys to Wales searching for Miss Peregrine and the home, and when he finds it, he ends up involved in a battle of sorts between creatures known as wights and hollows, and Miss Peregrine and the children.
Perhaps this is just a case of my expectations being too high, or misplaced. I was under the impression that this book was supposed to be frightening or creepy, but it really wasn't.
It was an occasionally interesting story, but most of the time I was just bored, waiting for something to happen other than Jacob hanging out with the 'peculiars' and arguing with his father.
The characters all fell flat for me. I didn't really care about them, and the 'peculiars' came across as though the author came up with a bunch of different abilities, rather than actual characters. Everyone felt one-dimensional.
I liked the photographs used in the book, but felt that they were clumsily plunked into the story, and that they were used just for the sake of using photos. In some instances it would have made more sense to write something rather than to basically say 'and then there was a picture' and have a photo on the next page; in other instances, though, the photos were described in detail and then the photo would appear. The photos were interesting but looking at them interrupted the flow and took me out of the story.
I also felt that the book ended without resolving everything, which makes me think there will be a sequel of sorts. I am frustrated because I want to know how some of the issues that come up in this book are resolved, but I don't know if I care enough to read another book like this.
I wish I had enjoyed this more. Like I said, the photos themselves are very interesting, and I appreciate that the author was doing something different, but it all left me wanting more, particularly in the way of character development.  Everyone's different, though, and there are certainly readers out there who loved this book, so if the premise and the use of photos intrigues you, you should pick this up and make up your own mind.