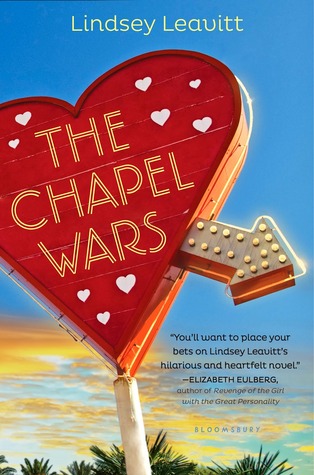 The Chapel Wars
By Lindsey Leavitt Source
Library
Published by
Bloomsbury USA Children's
on May 6, 2014
Rating:

Cover image and summary from Goodreads:

Sixteen-year-old Holly wants to remember her Grandpa forever, but she'd rather forget what he left her in his will: his wedding chapel on the Las Vegas strip. Whatever happened to gold watches, savings bonds, or some normal inheritance?

And then there's Grandpa's letter. Not only is Holly running the business with her recently divorced parents, but she needs to make some serious money—fast. Grandpa also insists Holly reach out to Dax, the grandson of her family's mortal enemy and owner of the cheesy chapel next door. No matter how cute Dax is, Holly needs to stay focused: on her group of guy friends, her disjointed family, work, school and... Dax. No wait, not Dax.

Holly's chapel represents everything she's ever loved in her past. Dax might be everything she could ever love in the future. But as for right now, there's a wedding chapel to save.
I read Lindsey Leavitt's Going Vintage last summer and enjoyed it, so when I learned that she had a new book out this year, I was eager to read it.
The Chapel Wars had a fun premise, with its Las Vegas setting and Holly's mission to save her newly-inherited wedding chapel. While she learns the truth about the chapel's financial trouble and tries to manage a staff that includes her family and friends, she begins to fall for Dax, the grandson of the man who owns her chapel's major competitor.
The romance was fun, the story was fun, Holly was very likeable, but something just didn't click for me. Maybe I read this book at the wrong time, or maybe it's just that I've read some truly fabulous contemporary books this summer and nothing else can compete with them – see this and this – but I never really got into the book. That extra special something that makes me fall in love with characters and feel emotionally invested in the story's outcome wasn't here for me.
I appreciated that Holly's family was fairly central to the story, and her banter with Dax was fun to read. This was one of those books that I didn't love but didn't dislike, and sometimes I find that they're the most difficult books to review, because I want to say that everything was okay. The writing, the story, the characters – they were all okay, but I didn't have any stronger feeling than that.
Overall, if you are a contemporary lover, The Chapel Wars might be the kind of book you'll love. Unfortunately for me, there was a lot of like but no love.