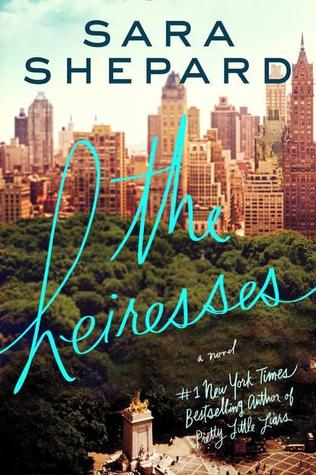 The Heiresses
By Sara Shepard Source
Purchased
Published by
Harper
on May 20, 2014
Rating:

Summary and cover image from Goodreads:

You know the Saybrooks. Everyone does. Perhaps you've read a profile of them in People or have seen their pictures in the society pages of Vogue. Perhaps while walking along that choice block on Fifth Avenue, you've been tempted to enter the ornate limestone building with their family name etched into the pediment above the door.

The only thing more flawless than a Saybrook's diamond solitaire is the family behind the jewelry empire. Beauties, entrepreneurs, debutantes, and style mavens, they are the epitome of New York City's high society. But being a Saybrook comes at a price—they are heirs not only to a dizzying fortune but also to a decades-old family curse.

Tragedy strikes the prominent family yet again when thirty-four-year-old Poppy, the most exquisite Saybrook of them all, flings herself from the window of her TriBeCa office. Everyone is shocked that a woman who had it all would end her own life. Then her cousins receive an ominous threat: one heiress down, four to go.

Was it suicide... or murder? In the aftermath of the tragedy, the remaining heiresses—Corinne, the perfectionist; Rowan, the workaholic; Aster, the hedonist; and Natasha, the enigma—wrestle with feelings of sadness, guilt, and, most of all, fear. Now they must uncover the truth about their family before they lose the only thing money can't buy: their lives.

The Heiresses is a whip-smart mystery that simmers with the wicked sense of humor and intrigue that made Sara Shepard's number one New York Times bestselling Pretty Little Liars series a must-read, must-watch phenomenon.
I was excited to read this book because I love Sara Shepard's Pretty Little Liars series, and this seemed like a similar kind of story, just centered around adults rather than teenagers.
I started reading this before I left for New York City to go to BEA, but didn't take it with me. By the time I got back from my trip, I was so excited about my shiny new books that I wasn't feeling very motivated to pick this one back up. So it took me a few days of being back home to get back into this book, and I think that big reading break contributed to my lukewarm feelings about the book. It's not a good sign to me when I put a book down and then don't even think about it again before picking it back up (or don't even feel interested in picking it back up…)
That said, I found the last half of the book more enjoyable than the first half. Shepard throws a lot of characters at you in the beginning, and despite the inclusion of a family tree in the front of the book, I found myself struggling to remember who these people were and how they were connected to each other. By the end, though, the main characters came across as distinct personalities.
Like the PLL series, much of the mystery of this book depends on conversations being overheard, computers and cell phones being hacked, and people who just happen to be in the right (or wrong) place at the right time. It does strain believability at times, but if you can push that aside and let yourself get caught up in the Saybrook ladies and their opulent lifestyles, this book can be a great, fun summer read.