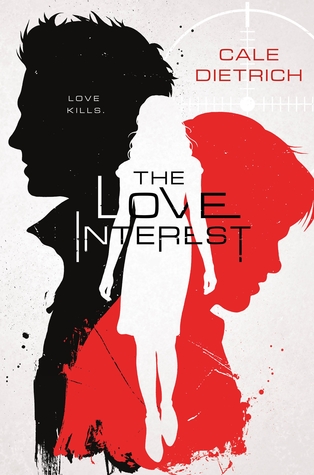 The Love Interest
By Cale Dietrich Source
Received from the publisher
Published by
Feiwel and Friends
on May 16, 2017
Received from the publisher in exchange for an honest review. This does not affect my opinion of the book or the content of my review.
Rating:

Cover image and synopsis from Goodreads:

There is a secret organization that cultivates teenage spies. The agents are called Love Interests because getting close to people destined for great power means getting valuable secrets.

Caden is a Nice: The boy next door, sculpted to physical perfection. Dylan is a Bad: The brooding, dark-souled guy, and dangerously handsome. The girl they are competing for is important to the organization, and each boy will pursue her. Will she choose a Nice or the Bad?

Both Caden and Dylan are living in the outside world for the first time. They are well-trained and at the top of their games. They have to be – whoever the girl doesn't choose will die.

What the boys don't expect are feelings that are outside of their training. Feelings that could kill them both.
I was super excited to read this book! That premise is so great, and I was really excited to receive an e-galley from the publisher.
I love the way The Love Interest plays with YA tropes, and it felt like it was coming from a place of affection, not in a mean-spirited way. It all felt so fun and clever. Spoiler warnings below!
And the romance between Caden and Dylan was not only fun, it kept me wondering if Dylan was being genuine with Caden, or if he was playing him. The stakes for them both were so high that I was always guessing at Dylan's motives.
There were some good twists, but the last part of the book felt rushed, in terms of the plot, like telling Juliet the truth and trying to save Dylan by not only running from the Striker, but fighting back and going to the LIC to take out the bad guys. It felt like a lot was happening but so quickly that I wasn't totally satisfied with the pacing and resolution.
However, for the most part, The Love Interest was a fun read that definitely has me looking forward to reading more from Cale Dietrich. Recommended!