This is hosted at Good Books And Good Wine: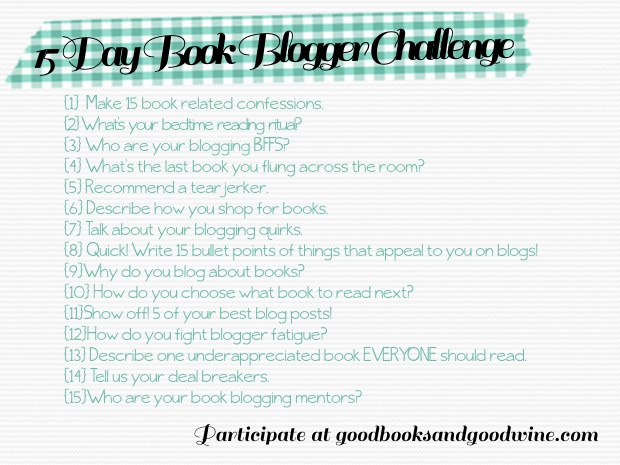 Today's topic is all about why I blog about books.
I have always loved books but never really had people to talk to about books. Growing up, I read a lot but I didn't know what my friends read. We never talked about it. I know most of my friends were readers, but I kept my reading habits and thoughts to myself back then. I was too shy and self conscious to talk about bookish thoughts.
Then when I was in university, and later college, I just didn't feel like I had any time to read for pleasure. I read what I had to for school, and then I watched tv and hung out with friends and did homework the rest of the time. My reading really suffered when I was a student.
Eventually though, I graduated for the final time, and without homework and studying to do, I had a lot of time on my hands! So I read. I read and read and read, and discovered YA and fell even more in love with stories and reading and utterly lost myself in new (to me) books.
I still didn't have many people in my life to talk to about books – only now I wanted to talk to people about books and tell them what I thought! I realized I was very fortunate to be married to a web designer, who could make me a lovely little blog at no charge, and that I could use it to get all my book-related thoughts out there!
So that's how this site was born, and through it, I've discovered countless fellow bloggers and books that I probably never would have heard of otherwise.
Blogging about books is a way for me to talk about something I'm passionate about (reading!) and as I've learned over the past few months, as I reach out more to the blogging community, it's much more fun to have conversations with others about books than it is to just blurt out my thoughts on my site and then run away.