This is hosted at Good Books And Good Wine: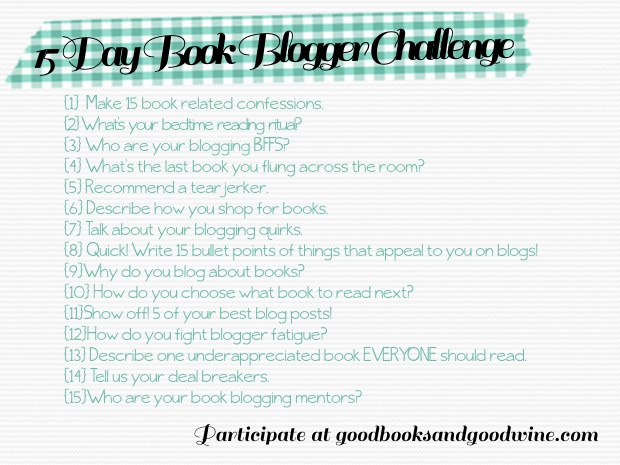 Today's topic is about blogging quirks.
I don't really know that I have any quirks. If I had to pick something, it might be that I usually write my review as soon as I can after finishing a book. I'll get my post set up (title, image, author, book summary, categories, tags), and then throw all my thoughts down in point-form, before they leave my brain. Then I go back and write things out properly, trying to expand on my point-form thoughts.
I'm always worried that if I don't try and get my thoughts down right away, I'll forget the things I wanted to say about a book (especially since I like to start reading my next book pretty much as soon as possible).
I've also been really into scheduling my posts these past few months. I used to post my reviews as soon as I finished writing them, but now I really like having a schedule, for consistency. It also helps me to know that I've got a few weeks of reviews already scheduled, so if I'm a bit slower than usual on my reading, I don't need to panic about not having any content on my site.
I do get a kick out of seeing my reviews a few weeks after I've written them, because I've usually read quite a few books between the time I write a review and the time the review is posted, and it makes me think, Oh yeah! I read that!
I don't know if those really count as quirks, but there you go! What are your quirks?