15 Day Book Blogger Challenge: Day Two
This is hosted at Good Books And Good Wine: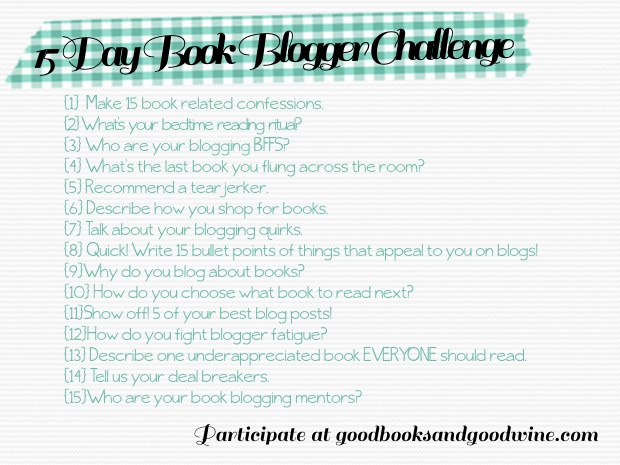 What's my bedtime reading ritual? Well, I'm the kind of person who likes a routine, so I definitely have a ritual for reading in bed.
An hour before I need to go to sleep, I brush my teeth and get my jammies on. Then I get in bed and read my book for one hour. Right before I'm ready to turn out the light and go to sleep, I update my status on Goodreads.
On weekends, I stick to the same routine but can stay up later to read!
I didn't always have a routine for reading before bed, but ever since I started working a 9-5 job, going to bed and getting up at the same time each day, it became pretty necessary to make sure I had time each day to read. Sometimes it's the only time of day that I get to read, although I try to fit it in wherever I can (before work, during my lunch hour, after dinner). I also think it helps me get to sleep each night, since I definitely start to feel sleepy when I'm snuggled up under the covers. Sometimes I can't even stay awake for a whole hour to read, and more than once I've dropped my ereader on my face because I've started to fall asleep reading it in bed!
So that's it – nothing too major, but it's still a very important part of my day!
Related Posts