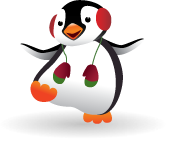 In case you've been wondering…
why there haven't been any posts lately: I have been reading! But I've also been working and preparing for my wedding on October 1! So while I have two books on the go, they have been relegated to the back burner lately.
I may not have any posts this month, and perhaps not until partway through next month after the wedding and honeymoon, but rest assured, I am still reading and hoping to be able to share my bookish thoughts with the world!
One book that I'm working on right now is good but very dense – it is taking a long time and a lot of effort to get through. I'm also reading a lighter book that I am really enjoying at the moment, and I will probably finish this book before the other one.
Anyway, I may be absent for now, but I will certainly be back – as Mrs. Pingwing!