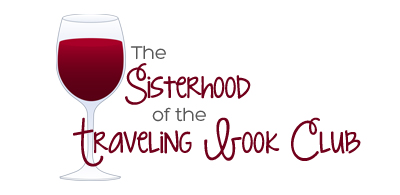 Big announcement today! I am part of a group of book bloggers (four of us) participating in an online book club that will travel from blog to blog!
The book club is made up of Kathy from A Glass of Wine; Kelly from KellyVision; Christy from The Reader Bee; and me! We're all posting our announcements today, so you can stop by their blogs to read more about it!
We'll be reading four books a year, and will rotate so that we each take a turn  'hosting' the discussion.
We'll be recording our discussion via a shared Google doc, and we may even have a Skype/Google chat about the book, which will be recapped on the blog.
I'm really excited for this because I've been loving the YA book club I joined earlier this year, and another book club made up of bloggers sounds like a lot fun, and will be a great way get to know other bloggers.
The first book is going to be Ann Brashare's The Sisterhood of the Travelling Pants, which I've never read (but I loved the movies!), and will be hosted on Kathy's blog in August.  The other discussions will be on Kelly's blog in November; Christy's in February; mine in May; and so on from there!
I can't wait to get started on the book and discussing with my new book club!