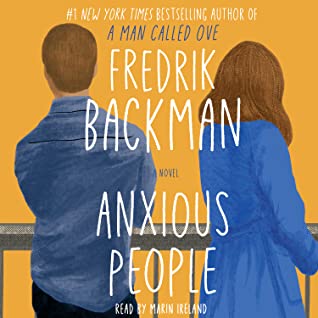 Anxious People
By Fredrik Backman Source
Scribd
on September 8, 2020
Rating:

When a failed bank robber escapes into an apartment filled with people during an open house, a group of six strangers are suddenly forced to get to know one another quickly and under extreme circumstances. But what will be the result?

In captivity we meet Roger and Anna-Lena, a recently retired couple who are on a manic hunt for fixer-uppers because they don't know how to fix their own marriage. They have the distinction of shopping at every Ikea in Sweden—and those are some of the most romantic moments they ever shared. Then there is Zara, a wealthy director of a bank who has never cared for poor people or their problems (and isn't shy about saying so). But when tragedy strikes in her life, she becomes addicted to visiting real-estate open houses to see how the middle-classes live—and possibly to find a suitable place to commit suicide. Julia and Danijela are a young lesbian couple with a newborn baby who can't agree on anything. Their opposite and idiosyncratic home preferences are making them increasingly anxious about their chances of spending a lifetime together. And Estelle, an eighty-year-old woman who has lived long enough to be unimpressed by some bank robber waving a gun in her face. Despite the story she tells them all, Estelle hasn't really come to the apartment to view it for her daughter, and her husband really isn't outside parking the car.

As police surround the premises and television channels are broadcasting live, the pressure of an increasingly tense situation mounts, causing each person to reveal more and more about themselves to each other. Before long, the robber must decide which is the more terrifying prospect: going out to face the police, or staying in the apartment with this group of impossible people.

A riotous comedy, Anxious People is about a crime that never took place, a would-be bank robber who disappears into thin air, and a group of very anxious people who experience exactly the same events in wildly different ways.
I am in the minority here but I did not love this. I don't even think I liked it. I guess it was okay, but I don't think I was the right reader for this.
Given the number of characters, the audiobook narrator did a pretty good job distinguishing each character's voice so that I could follow along fairly easily and not lose track of who was who.
As for the writing/story, the tone and the humour didn't work for me, it all felt way too schmaltzy for my taste, and the characters felt like caricatures or flat. I wasn't interested in any of them. The only thing that interested me was the bank robbery mystery, but just barely.
Obviously this book was just not right for me, but I have seen so many glowing, 5-star reviews of it that I feel like I need to give something else by this author a try to see if I enjoy one of his other books.