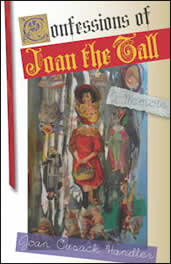 Confessions of Joan the Tall
By Joan Cusack Handler Source
Received from TLC Book Tours
Published by
CavanKerry Press
on November 13, 2012
Received from TLC Book Tours in exchange for an honest review. This does not affect my opinion of the book or the content of my review.
Rating:

A memoir written in the voice of a twelve year old Irish Catholic girl living in the Bronx in 1954, Confessions recounts one year in the life of Joan, a very tall, religious, funny, self-conscious, emotionally imprisoned, lovable girl whose journey takes her from innocence, isolation, and inhibition to the beginnings of freedom and awakening. Fiercely committed to seeing only the good, the Joan who greets us is flush with the beauty of life and the Lord. Gradually, however, she sinks into the devastation of adolescent self-consciousness over her many problems including her unusual height, unbridled guilt, and conflicted, often painful, relationships with family.

Confused by her Catholic commitment to confess all one's wrongs on the one hand and her mothers' dictate to say nothing of what happens inside the family 'four walls', Joan struggles to find a place where she can reveal all that torments her—this relief she finds in her notebook. In this 'place' of solace and grace--the format, a kind of Confession--Joan is freed to know and reveal herself in all her flaws and frailties.
I am not necessarily a religious person, but I enjoy reading about people who are different from me, which is part of what appealed to me about this book.
I loved that Joan's voice was so authentic and clear. It really did feel as though I was reading a twelve-year old's journal – it reminded me of the way I saw the world as a child.
Joan is trying to do the right thing and be a good person, but there are moments where she's torn between what other people ask of her and what she has been told she should do (such as lying for her brother and sister, despite believing that lying is wrong and a sin). I think those of us with siblings can all identify with the confusion Joan feels at times, debating whether or not she should lie or tell the truth – if she lies, she might be committing a sin but her siblings wouldn't be upset. If she tells the truth, she's being good but she's going to get it from her brother or sister later for snitching.
While she's growing into her own person, Joan is still trying to be an obedient daughter, and growing up with siblings who rebel can make the role of the 'good child' a difficult one. My favourite parts of the book involved Joan's relationships with her siblings, probably because as a middle child my sisters were a very important part of my childhood, and I am always fascinated by other siblings and how they all relate to each other.
Joan's self consciousness about things like her height, or her parents' accents and clothes, certainly brought me back to my childhood, and my own self consciousness and fears of being different. While the details may be different (I am definitely not what you would call tall), it was very easy to identify with Joan's fears and worries.
I liked reading about Joan's journey towards self-acceptance – it's not an easy one, but hopefully we all get there! I was also interested in reading about her faith. While I'm not a religious person now, I attended church as a child and when I was around Joan's age I found myself questioning what I thought I knew about God, Jesus, my church…I admired Joan's strong faith and devotion.
This book is a quirky, funny, endearing coming-of-age story, and I definitely recommend it.
You can learn more about Joan Cusack Handler and this book here and here.
Here is the full list of tour stops:
Monday, November 26th:  Patricia's Wisdom
Tuesday, November 27th:  Pingwing's Bookshelf
Wednesday, November 28th:  Fiction Addict
Thursday, November 29th:  A Catholic Mom Climbing the Pillars
Friday, November 30th:  Bookchickdi
Monday, December 3rd:  Sharon's Garden of Book Reviews
Tuesday, December 4th:  She Treads Softly
Wednesday, December 5th:  Speaking of Books
Friday, December 7th:  Confessions from a Rambling Mind
Monday, December 10th:  House of the Seven Tails
Tuesday, December 11th:  Simply Stacie
Wednesday, December 12th:  Bibliosue
Thursday, December 13th:  WV Stitcher
Friday, December 14th:  Luxury Reading
Monday, December 17th:  Day by Day in Our World
Tuesday, December 18th:  Peeking Between the Pages
Wednesday, December 19th:  Reading Between the Lines