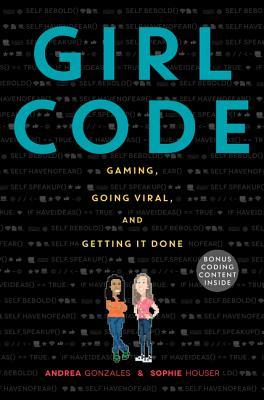 Girl Code: Gaming, Going Viral, and Getting It Done
By Andrea Gonzales, Sophie Houser Source
Received from the publisher
Published by
HarperCollins
on March 7, 2017
Received from the publisher in exchange for an honest review. This does not affect my opinion of the book or the content of my review.
Rating:

Perfect for aspiring coders everywhere, Girl Code is the story of two teenage tech phenoms who met at Girls Who Code summer camp, teamed up to create a viral video game, and ended up becoming world famous. The book also includes bonus content to help you get started coding!

Fans of funny and inspiring books like Maya Van Wagenen's Popular and Caroline Paul's Gutsy Girl will love hearing about Andrea "Andy" Gonzales and Sophie Houser's journey from average teens to powerhouses. Through the success of their video game, Andy and Sophie got unprecedented access to some of the biggest start-ups and tech companies, and now they're sharing what they've seen. Their video game and their commitment to inspiring young women have been covered by the Huffington Post, Buzzfeed, CNN, Teen Vogue, Jezebel, the Today show, and many more.

Get ready for an inside look at the tech industry, the true power of coding, and some of the amazing women who are shaping the world. Andy and Sophie reveal not only what they've learned about opportunities in science and technology but also the true value of discovering your own voice and creativity.
I picked this up shortly after I finished reading Kat and Meg Conquer the World (which I really enjoyed). I wanted to read more about girls and gaming, and I had this as an e-ARC and finally got around to reading it.
This was a really interesting non-fiction story by Andy and Sophie, teenagers who got into coding and made a game called Tampon Run. The game went viral and they ended up giving lots of interviews and speeches about their game and the rationale behind it, and visited Silicon Valley to meet other people in the tech industry and even attended a hackathon.
I really liked the feminist message behind their game, and the way the book alternated between chapters written by each girl. They each had to figure out what the game and coding meant to them and where it could fit into their plans for the future.
I also liked reading about girls in the tech industry, and they had some neat coding exercises at the end of the book that I might try out. I have this blog but I know nothing about coding, and I felt inspired by the time I finished to try and learn some basics.