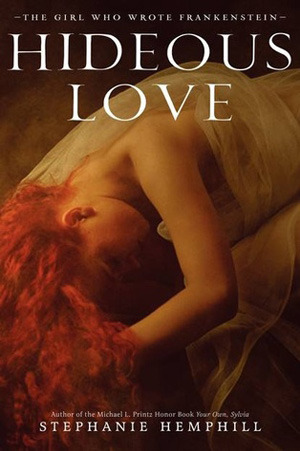 Hideous Love: The Story of the Girl who Wrote Frankenstein
By Stephanie Hemphill Source
Received from the publisher
Published by
Balzer & Bray
on October 1, 2013
Received from the publisher in exchange for an honest review. This does not affect my opinion of the book or the content of my review.
Rating:

An all-consuming love affair.

A family torn apart by scandal.

A young author on the brink of greatness.

Hideous Love is the fascinating story of Gothic novelist Mary Shelley, who as a teen girl fled her restrictive home only to find herself in the shadow of a brilliant but moody boyfriend, famed poet Percy Shelley. It is the story of the mastermind behind one of the most iconic figures in all of literature: a monster constructed out of dead bodies and brought to life by the tragic Dr. Frankenstein.

Mary wrote Frankenstein at the age of nineteen, but inspiration for the monster came from her life-the atmospheric European settings she visited, the dramas swirling around her, and the stimulating philosophical discussions with the greatest minds of the period, like her close friend, Lord Byron.

This luminous verse novel from award-winning author Stephanie Hemphill reveals how Mary Shelley became one of the most celebrated authors in history.
I went into this not really knowing what to expect. I've never read a verse novel, and I was nervous that it wouldn't be my thing. Unfortunately, while the idea behind this novel interested and intrigued me, I didn't like the novel overall.
This is a quick read, at least. And while the writing felt stilted and fractured, it didn't entirely put me off verse novels, and I'm open to trying another one in the future (any suggestions?).  I was hoping for more of Mary's story but I didn't get the depth or detail that I wanted. I never felt connected to or invested in any of this story or its characters, despite the turmoil Mary experiences.
Although there were some beautiful passages, I felt as though the writing was skimming the surface at times. I couldn't understand, for example, Mary's love for Shelley. I felt that I was being told over and over about their relationship but I didn't get a feel for it. I was also hoping to read more about her writing of Frankenstein. It's such a well-known, much-studied book and I wanted to read more about that part of her life. If anything, this book made me want to read Frankenstein  and perhaps a biography of Mary Shelley.
There was so much tragedy in this book, and so much scandal! I am surprised that I wasn't very interested in this book, considering the things that happened throughout: deaths, affairs, illegitimate children, family feuds, and more.
While this wasn't the book for me, I've seen some very positive reviews, so if you like verse novels and/or are a Mary Shelley fan, you might want to pick this one up.