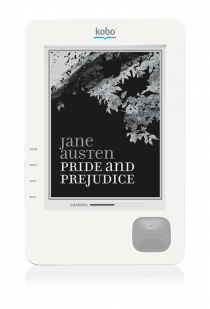 I bought the Kobo e-reader on pre-order in April and was so excited when it showed up at the beginning of May.  I thought I was totally against e-readers at first but I am so hooked on my Kobo now.  I love the portability of it, and the fact that I can carry so many 'books' with me at the same time!
The picture I've used here is the newer, wireless version of the Kobo.  Mine is non-wireless but that's just fine with me.  I read most of my books these days on it and have, sadly, neglected the books I was reading before I got my Kobo (but I'm trying to fix that!).
If you're considering getting an e-reader, I would really recommend this if you don't want to spend a ton of money or get something that does a zillion other things.  If you're just looking for an e-reader, this is the one to get!