By Roland Allnach
Source: Review copy received from the publisher via TLC Book Tours
My rating: 3 / 5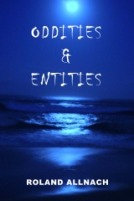 I wanted to read this because I was looking for something spooky and creepy for the month of October!
Summary from TLC Book Tours:
Oddities & Entities is a surreal, provocative anthology of six tales within the supernatural/paranormal/horror genres, exploring a definition of life beyond the fragile vessel of the human body. The stories are: 'Boneview', in which a young woman struggles to balance her ability to see through people with the presence of a supernatural creature in her life; 'Shift/Change', in which a hospital worker struggles to regain his memory as he is confronted by a series of desperate people; 'My Other Me', in which a lonely college student finds himself displaced from his body by his alter ego; 'Gray', in which a frustrated man is stunned to discover a little creature has been living in his head; 'Elmer Phelps', in which a brother and sister find themselves linked in a strange reality by a bat bite in their youth; and lastly, 'Appendage', in which a cynical mercenary is hired by his son to protect a research lab on the verge of a stunning discovery.
The book is a collection of six short stories, some bizarre, some frightening, some just plain strange. There were some stories that I didn't quite connect with, but the standouts for me were the first three: Boneview, Shift/Change, and My Other Me. These unusual stories had me reading quickly, wanting to see how they ended, and they stayed with me for some time after I put the book down.
Boneview was a great story to open the book, and it felt like the most traditional of horror tales. It was spooky, and as he does with each of these stories, Allnach takes things in a direction that I didn't expect. Shift/Change was dark, with an unusual setting that certainly contributed to the constant tension I felt while reading this. My Other Me was a bit of a jaw-dropper, because things kept happening that I didn't think would happen. What a strange story this was! But it was one that I couldn't stop reading,
Each of the stories was unlike others I've read, and Allnach has a way of creating the sort of atmosphere that leaves you feeling appropriately unsettled as you read these paranormal tales. As I would expect from horror, there are some elements of violence and gore in some of the stories, but they felt appropriate to the story, never over the top or gruesome.
If you're looking for stories to send a bit of a shiver up your spine (and with Halloween coming up, you should be!), I would recommend at least Boneview, Shift/Change, and My Other Me from this anthology.
Here is the full tour schedule:
Tuesday, October 1st: Hopelessly Devoted Bibliophile
Wednesday, October 2nd: Wordsmithonia
Tuesday, October 8th: Ms. Nose in a Book
Wednesday, October 9th: Tiffany's Bookshelf
Thursday, October 10th: The Reader's Hollow
Friday, October 11th: No More Grumpy Bookseller
Tuesday, October 15th: Sweet Southern Home
Thursday, October 17th: Bibliophilia, Please!
Monday, October 21st: Pingwing's Bookshelf
Tuesday, October 22nd: October Country
Wednesday, October 23rd: BoundbyWords
Thursday, October 24th: From the TBR Pile
Monday, October 28th: Luxury Reading
Tuesday, October 29th: Sara's Organized Chaos
TBD: Diary of a Stay at Home Mom 
You can visit the author's website, blog, and Facebook page.