Pre-Order Announcement: Lizzie by Dawn Ius
Today I've got some details about pre-order swag for the upcoming Lizzie by Dawn Ius!
Here's the synopsis:
Seventeen-year-old Lizzie Borden has never been kissed. Polite but painfully shy, Lizzie prefers to stay in the kitchen, where she can dream of becoming a chef and escape her reality. With tyrannical parents who force her to work at the family's B&B and her blackout episodes—a medical condition that has plagued her since her first menstrual cycle—Lizzie longs for a life of freedom, the time and space to just figure out who she is and what she wants.

Enter the effervescent, unpredictable Bridget Sullivan. Bridget has joined the B&B's staff as the new maid, and Lizzie is instantly drawn to her artistic style and free spirit—even her Star Wars obsession is kind of cute. The two of them forge bonds that quickly turn into something that's maybe more than friendship.

But when her parents try to restrain Lizzie from living the life she wants, it sparks something in her that she can't quite figure out. Her blackout episodes start getting worse, her instincts less and less reliable. Lizzie is angry, certainly, but she also feels like she's going mad…
The book comes out on April 10, 2018. To receive some pre-order swag and enter to win the grand prize, email Dawn Ius at dawniuspreorders@gmail.com with a copy of the receipt (your email must include your address).
Check out what you could win: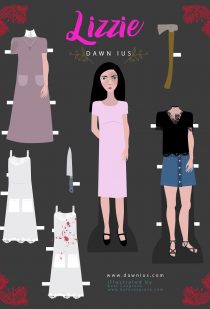 Each person will receive a copy of this paper doll, and a signed bookplate.
One grand prize winner will receive:
•bookmarks;
•recipe card;
•an assortment of Lizzie Borden-inspired items; and
•a signed copy of Dawn Ius' Overdrive and Anne & Henry.
This is open internationally, and closes April 9th at midnight.
I'm looking forward to reading Lizzie! You can pre-order a copy here:
Related Posts