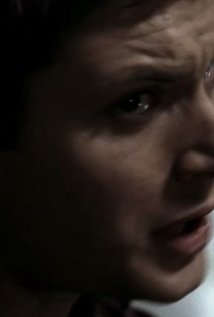 (As I mentioned in my post announcing this rewatch project, there will be spoilers!)

Season One, Episode Nine: Home

Image and episode summary from IMDB:

When Sam starts to have nightmares about their old home, he and Dean head back to Kansas. They soon discover that the new owners of their old house are being plagued by a malevolent entity, could it be the same thing that killed their mother many years earlier?
At last! An episode that should move the season arc forward re: the search for John Winchester!
Yes child, there definitely is something in your closet. I always had to sleep with my closet door closed as a kid. This is a pretty creepy scene: the chair moves, the really creaky closet doors open, and then a fire ghost thing walks out slowly!
Ooh, the mom found a box of photos of John Winchester and family! Don't they look cute and happy?
So this is another glimpse of Sam's dreams/premonitions. Although I guess they haven't really been explicitly mentioned before this, we did get hints of it in the Bloody Mary episode.
There is so much emotion in this scene about Sam and Dean going 'home'!
Again, we see that Dean was going to lie, but Sam tells the truth. But they get themselves in the house – their childhood home. Probably the last true home they had.
OMG their faces when the woman talks about the problems with the house. They know it isn't rats.
The scene with Dean remembering that night that their mother died – seems like Sam didn't know that Dean carried him out of the house. And Dean's message to his dad saying they're in Lawrence, and they need him, is super touching. He's a son calling his father to ask for help.
Come on guy, don't put your hand down the garbage disposal! Even if it's unplugged and turned off. It's just never a good idea on this show.
Oh man, John Winchester owned this garage long ago! [Spoiler – highlight the rest of the paragraph to read: I wonder if this is the garage he's working at when Castiel zaps Dean to the past later??]
This Missouri is the real deal! She 'drew back the curtains' for John Winchester.
Hmm baby in the fridge is weird. I would freak out if I left the room and came back to find my child locked in the refridgerator.
I love this scene with Sam in his old nursery. They're right back where it all began for them.
So it seems as though the people who moved into the Winchester's old house are being haunted by a poltergeist. Sam and Dean's old house is a magnet for paranormal activity because of what happened all those years ago.
Ooh crossroads dirt mention! I love the episode about crossroads in I believe season three.
We see Dean rescue Sam, again, in their childhood home. But it isn't over. Oh look, Sam carrying a baby and then telling its older sibling to carry it out of the house, as he was carried once from that house. Full circle.
MOM! Why was she manifesting as that fire ghost? Ooh, ghost fight. But now Sam gets to see her and speak to her…what is she apologizing to him for?
Woah she destroyed herself going after the poltergeist, to protect Sam and Dean. Intense.
This episode seems to really mark the beginning of something strange happening to Sam.
GASP! John Winchester! HOW DARE HE be in Lawrence, get Dean's message, and NOT contact his sons. He says he can't see them until he 'knows the truth' – well that's certainly cryptic!
The first time that I saw this episode, I was legitimately shocked that John Winchester made an appearance.
Overall Thoughts:
I love this episode, because it has a Monster of the Week storyline that has been tied in to Sam and Dean's past. And of course, the mystery appearance of their dad at the end was truly surprising!
Lore:
-Spirits; I suppose a poltergeist is a kind of spirit?