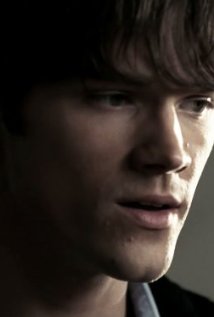 (As I mentioned in my post announcing this rewatch project, there will be spoilers!)

Season One, Episode Six: Skin

Image and episode summary from IMDB:

When one of Sam's old school friends is framed for the murder of his girlfriend, Sam and Dean investigate, discovering that a shapeshifter is responsible for that murder and possibly other similar murders.
This is probably one of my favourite episode openings. It's such a mind F!
Is Sam using a Palm Pilot or a Treo or something like that? Yet again, my fascination with evolving cell phone technology as portrayed by Supernatural…
I love getting to see that Sam has college friends, the reminder that he was out living his own life, even just for a little while – the show hasn't forgotten that he spent years at school and then left it all behind to go on the road with Dean. I'm sure Sam's friends wondered where he went, especially after Jessica's death.
Dean's philosophy of life as a hunter seems to be that you don't get close to people. I get it – they're always on the road, traveling from one town or city or another, which certainly doesn't lend itself to romantic relationships, or even, it would seem, friendships.
I love the shape-shifter lore on Supernatural. The eyes and the way they look strange on camera/film – pretty cool. They are also kind of gross, leaving behind the discarded skin, teeth, hair, etc.  I guess this makes a werewolf a kind of shifter, and so silver bullets will kill them.
That is not Dean! I love that Sam knows that it's a shifter, not his brother.
It would seem that shifters can also get the memories of the people they 'copy'. That is very cool. Even though Sam is talking to the shifter, not Dean, this scene between them, with Sam tied up and the shifter taking on Dean's appearance, is really good and gets at the early season's conflict between the brothers. And Jensen Ackles plays the part of the 'shifter' impersonating Dean so well.
However, it is very upsetting to see 'Dean' being so cruel.
The fight scenes in this episode were pretty impressive. I think this is the first really intense, extended fight scene with Sam and Dean so far, and Sam has some pretty good skills!
I have to agree with Dean – it would be super weird to look at 'your' own dead body. Very surreal. And yay, he takes the 'Samulet' back!
Overall Thoughts:
This still comes across as a Monster of the Week episode, not really addressing the major storyline re: the search for their dad along, but I absolutely love the way we see the conflict between Sam and Dean. The shifter tells Sam things that Dean can't or won't, and Jensen Ackles is so great at playing a darker version of Dean when he's portraying the shifter.
The fight scenes were also absolutely terrific.
Lore:
-Shape-shifters; werewolves