TBR Thursday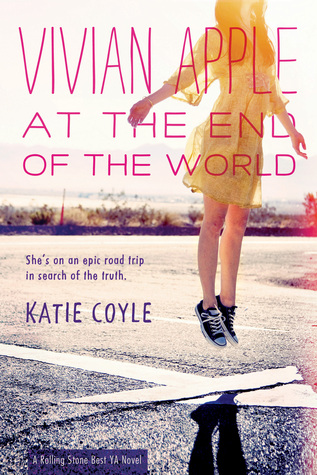 I did a few of these posts years ago, when I wanted something like a Waiting on Wednesday post, but for books that had already been released (and usually already on my physical or virtual bookshelves). I  found the TBR Thursday meme at Book Blather and realized it was just what I was going for.
Today's pick is another ARC I received at BEA back in 2014: Vivian Apple at the End of the World by Katie Coyle:
Seventeen-year-old Vivian Apple never believed in the evangelical Church of America, unlike her recently devout parents. But when Vivian returns home the night after the supposed "Rapture," all that's left of her parents are two holes in the roof. Suddenly, she doesn't know who or what to believe. With her best friend Harp and a mysterious ally, Peter, Vivian embarks on a desperate cross-country roadtrip through a paranoid and panic-stricken America to find answers. Because at the end of the world, Vivan Apple isn't looking for a savior. She's looking for the truth.
This is another one I've hung on to throughout a move and various bookshelf purges, because the synopsis really intrigues me!
This is on my vacation TBR for August, and I'm looking forward to finally reading it.
Related Posts