TBR Thursday
I was thinking of doing a series of posts about books that I have already, or have already been released, that I really want to read. Sort of like the Waiting on Wednesday posts, but about already-out books.
I found the TBR Thursday meme at Book Blather and realized it was just what I was going for.
My first TBR Thursday post is about The Friday Society, by Adrienne Kress.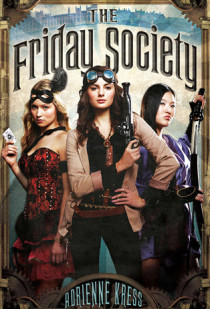 From Goodreads:
Set in turn of the century London, The Friday Society follows the stories of three very intelligent and talented young women, all of whom are assistants to powerful men: Cora, lab assistant; Michiko, Japanese fight assistant; and Nellie, magician's assistant. The three young women's lives become inexorably intertwined after a chance meeting at a ball that ends with the discovery of a murdered mystery man.

It's up to these three, in their own charming but bold way, to solve the murder–and the crimes they believe may be connected to it–without calling too much attention to themselves.

Set in the past but with a modern irreverent flare, this Steampunk whodunit introduces three unforgettable and very ladylike–well, relatively ladylike–heroines poised for more dangerous adventures.
That sounds so cool! I haven't read much steampunk but am always looking for something steampunky and fun, and this seems to fit the bill. I love the idea of the three girls working together to solve a murder. This is definitely going on my TBR list!
Related Posts