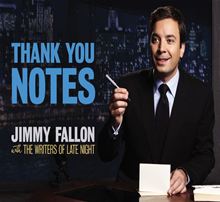 Thank You Notes
By Jimmy Fallon and the Writers of Late Night Source
Purchased
Published by
Grand Central Publishing
on May 23, 2011
Rating:

Thank you, slow walking family walking in front of me on the sidewalk. No, please, take your time. And definitely spread out, too, so you create a barricade of idiots. I am so thankful that you forced me to walk on the street and risk getting hit by a car in order to pass you so I could resume walking at a normal human pace.

Jimmy Fallon has a few people and a few things to thank. In this brand-new book, the very first to come from his show, he addresses some 200 subjects in need of his undying "gratitude." Each page will feature one note and a photograph of its recipient. But why read any more about formatting when you could just read a few more samples:

Thank you, guy whose chair made a farting noise, for prompting him to spend the next 20 minutes awkwardly shifting around trying to re-create the noise, so people would know it was just the chair. Thank you, Miley Cyrus, for being 16 and acting like a stripper at the Teen Choice Awards. If you REALLY wanna piss off your dad, why not just cut off his allowance?

From Hilary Clinton to a light bulb he is too lazy to replace, these are the moments and memories that make Jimmy's life a little bit fuller.
This was a fun little book from Late Night with Jimmy Fallon. I never stay up late enough on a weeknight to watch the show, but I loved Jimmy Fallon on Saturday Night Live. I think he's so funny!
This book was pretty funny. It was also a really quick read! I read the majority of it at the laundromat while my clothes were in the washing machine. The price at the Kobo store is $8.99, which is probably the most money I would pay for such a quick read. It was hilarious, but pretty short, if you're going to read it all at once. It's probably better to read it in little bits and pieces.
I'm still recommending it though, because it made me laugh out loud, even at the laundromat. Funny stuff!