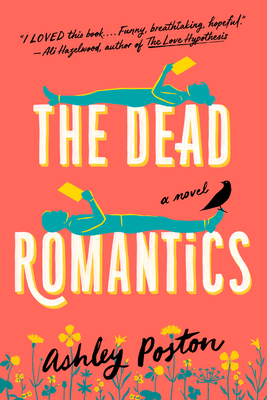 The Dead Romantics
Source
Purchased
Published by
Berkley
on June 28, 2022
Rating:

Florence Day is the ghostwriter for one of the most prolific romance authors in the industry, and she has a problem—after a terrible breakup, she no longer believes in love. It's as good as dead.

When her new editor, a too-handsome mountain of a man, won't give her an extension on her book deadline, Florence prepares to kiss her career goodbye. But then she gets a phone call she never wanted to receive, and she must return home for the first time in a decade to help her family bury her beloved father.

For ten years, she's run from the town that never understood her, and even though she misses the sound of a warm Southern night and her eccentric, loving family and their funeral parlor, she can't bring herself to stay. Even with her father gone, it feels like nothing in this town has changed. And she hates it.

Until she finds a ghost standing at the funeral parlor's front door, just as broad and infuriatingly handsome as ever, and he's just as confused about why he's there as she is.

Romance is most certainly dead... but so is her new editor, and his unfinished business will have her second-guessing everything she's ever known about love stories.
I was really excited to read this! The premise sucked me in, and sounded so good: a ghostwriter falling in love with the ghost of her editor!
I loved the romance. Obviously there was a lot of pining and tension between Florence and Ben, her new editor who suddenly appears as a ghost in her small hometown while she's there for her father's funeral. She has seen ghosts since she was young, and she figures that she is supposed to help Ben with his unfinished business so he can move on. I loved the way they got to know each other and develop an intimacy apart from the physical.
I also loved reading about the writing, ghostwriting, and publishing side of Ben and Florence's story! I thought Florence's job as a ghostwriter was fascinating, and enjoyed unravelling her story to reveal what was behind her writer's block. Of course, she assumes her current unfinished (and possibly late) manuscript that Ben was to edit is his unfinished business, and that once she turns it in, he'll move on. Her struggle was that she'd had her heart broken and couldn't believe in love anymore. How are you supposed to write a romance novel after that?
I liked the small town setting, but it started to feel much too quaint and cutesy for me. And View Spoiler » there was a whole subplot about her being run out of town for solving a murder (with a ghost's help) when she was a teenager that felt so jarring when it was mentioned and out of place to me, I couldn't come to grips with it. « Hide Spoiler
While there's romance in this story, it felt like the bigger focus was on Florence's family and her relationship with her siblings. I didn't feel invested in this aspect of the story, and just couldn't connect. I know it's probably weird to say that I loved the ghost love interest but felt like the family members weren't full characters that I could connect with, but that's what happened here. Every interaction between Florence and her siblings felt stilted and my motivation to read on would totally grind to a halt when it came to her father's funeral arrangements. I wish I had been more engaged with and interested in the story of her family, because it's a huge part of the story, but I just wasn't.
There are so many 5 star reviews of this book, so I think I'm in the minority for not absolutely loving this one, but I did like it! Just not as much as I'd hoped I would. But I loved the romance and the dialogue and relationship between Florence and Ben, and for that aspect alone, would recommend the book.