Waiting on Wednesday is hosted by Jill at Breaking the Spine, and spotlights upcoming releases that we're eagerly anticipating.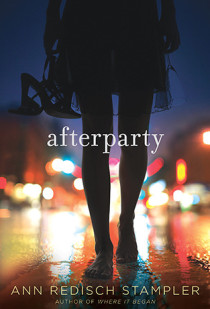 This week's pick is Afterparty by Ann Redisch Stampler. Here is the book summary:
Emma is tired of being good. Always the dutiful daughter to an overprotective father, she is the antithesis of her mother — whose name her dad won't even say out loud. That's why meeting Siobhan is the best thing that ever happened to her…and the most dangerous. Because Siobhan is fun and alluring and experienced and lives on the edge. In other words, she's everything Emma is not.

And it may be more than Emma can handle.

Because as intoxicating as her secret life may be, when Emma begins to make her own decisions, Siobhan starts to unravel. It's more than just Dylan, the boy who comes between them. Their high-stakes pacts are spinning out of control. Elaborate lies become second nature. Loyalties and boundaries are blurred. And it all comes to a head at the infamous Afterparty, where debauchery rages and an intense, inescapable confrontation ends in a plummet from the rooftop…

This explosive, sexy, and harrowing follow-up to Ann Redisch Stampler's spectacular teen debut, Where It Began, reveals how those who know us best can hurt us most.
First of all, there's something about this cover that I love, with the shadow and the colours of the lights.
This book sounds like a fun, exciting, somewhat dark story. I love stories about friendships, and this one sounds like the kind of friendship that tests limits and boundaries, which can be very interesting to read about!
The book is coming out in January 2014, according to Goodreads, so I've got a long time to wait and look forward to this one!