Waiting on Wednesday is hosted by Jill at Breaking the Spine, and spotlights upcoming releases that we're eagerly anticipating.
This week's pick is Roomies by Sara Zarr and Tara Altebrando.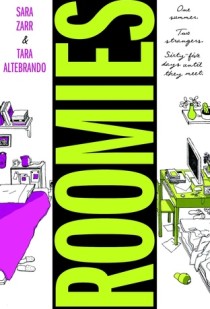 Here is the Goodreads summary:
It's time to meet your new roomie.

When East Coast native Elizabeth receives her freshman-year roommate assignment, she shoots off an e-mail to coordinate the basics: television, microwave, mini-fridge. That first note to San Franciscan Lauren sparks a series of e-mails that alters the landscape of each girl's summer — and raises questions about how two girls who are so different will ever share a dorm room.

As the countdown to college begins, life at home becomes increasingly complex. With family relationships and childhood friendships strained by change, it suddenly seems that the only people Elizabeth and Lauren can rely on are the complicated new boys in their lives . . . and each other. Even though they've never met.

National Book Award finalist Sara Zarr and acclaimed author Tara Altebrando join forces for a novel about growing up, leaving home, and getting that one fateful e-mail that assigns your college roommate.
I am so excited to read this! I've loved the books I've read that are about the college/university experience, and always want to find more books with that setting.
I think leaving home, perhaps for the first time, and preparing for the rigours of post-secondary education and transitioning to being an adult are such important moments in a person's life – they were in mine, at least – and I'm really intrigued by the premise of this book. I'm also curious about the format, with Lauren and Elizabeth communicating by e-mail.
This book is scheduled to come out on December 24, so I don't have to wait too much longer to read it! What are you waiting on this week?