Waiting on Wednesday
Waiting on Wednesday is hosted by Jill at Breaking the Spine, and spotlights upcoming releases that we're eagerly anticipating.
Today my pick is Vanishing Girls by Lauren Oliver.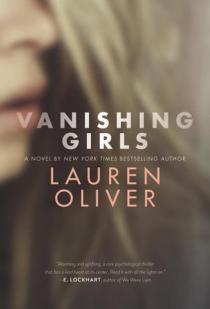 From Goodreads:
New York Times bestselling author Lauren Oliver delivers a gripping story about two sisters inexorably altered by a terrible accident.

Dara and Nick used to be inseparable, but that was before the accident that left Dara's beautiful face scarred and the two sisters totally estranged. When Dara vanishes on her birthday, Nick thinks Dara is just playing around. But another girl, nine-year-old Madeline Snow, has vanished, too, and Nick becomes increasingly convinced that the two disappearances are linked. Now Nick has to find her sister, before it's too late.

In this edgy and compelling novel, Lauren Oliver creates a world of intrigue, loss, and suspicion as two sisters search to find themselves, and each other.
I'm really excited for this book! I've loved Lauren Oliver's earlier books, so I was already looking forward to this one when I heard that she had a new book coming out, but when I learned that it was about two sisters and some mysterious disappearances, I was beyond excited. I love stories about siblings, and it sounds like there is a dark, mysterious edge to this book.
According to Goodreads, it's scheduled for release in March of next year, so it will be a while before I can get my hands on a copy!
What are you waiting on this week?
Related Posts