Waiting on Wednesday
Waiting on Wednesday is hosted by Jill at Breaking the Spine, and spotlights upcoming releases that we're eagerly anticipating.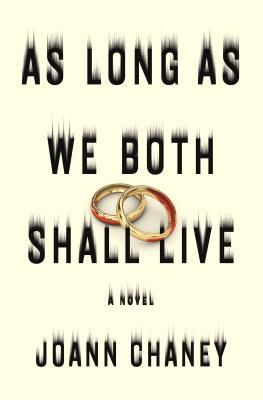 Today my pick is As Long As We Both Shall Live by JoAnn Chaney, out January 15 from Flatiron Books:
"My wife! I think she's dead!" Matt frantically tells park rangers that he and his wife, Marie, were hiking when she fell off a cliff into the raging river below. They start a search, but they aren't hopeful: no one could have survived that fall. It was a tragic accident.

But Matt's first wife also died in suspicious circumstances. And when the police pull a body out of the river, they have a lot more questions for Matt.

Detectives Loren and Spengler want to know if Matt is a grieving, twice-unlucky husband or a cold-blooded murderer. They dig into the couple's lives to see what they can unearth. And they find that love's got teeth, it's got claws, and once it hitches you to a person, it's tough to rip yourself free.

So what happens when you're done making it work?
I am beyond excited for this book! Her previous book, What You Don't Know, was a dark, gripping thriller that I read in one day (and which was one of my favourite reads of 2017).
I'm already hearing that this book is fantastic, so thankfully I don't have to wait too long to get my hands on a copy!
What are you waiting on this week?
Related Posts