Waiting On Wednesday
Waiting on Wednesday is hosted by Jill at Breaking the Spine, and spotlights upcoming releases that we're eagerly anticipating.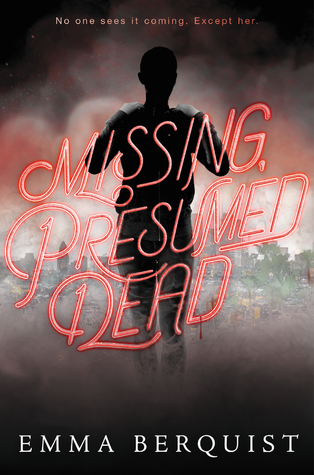 Today my pick is Missing, Presumed Dead by Emma Berquist, out May 21 from Greenwillow Books:
With a touch, Lexi can sense how and when someone will die. Some say it's a gift. But to Lexi it's a curse—one that keeps her friendless and alone. All that changes when Lexi foresees the violent death of a young woman, Jane, outside a club. But Jane doesn't go to the afterlife quietly. Her ghost remains behind, determined to hunt down her murderer, and she needs Lexi's help. In life, Jane was everything Lexi is not—outgoing, happy, popular. But in death, all Jane wants is revenge. Lexi will do anything to help Jane, to make up for the fact that she didn't—couldn't—save Jane's life, and to keep this beautiful ghost of a girl by her side for as long as possible.
I really enjoyed Emma Berquist's debut, Devils Unto Dust. This sounds like more of a mystery, with a supernatural twist, which is totally my kind of book.
I have an eARC of this one that I'm very excited to read, so I'll be getting into it shortly!
What are you waiting on this week?
Related Posts