Week In Review
August 21 – 27
Hello! I've had a fantastic weekend so far and I plan to make the most of what's left by enjoying some coffee and finishing my current read.
New books:
I received a few books via Edelweiss this week, including a couple that I am MEGA excited about (thank you Harper Collins Canada!):
Dread Nation, Justina Ireland (this is one of the two that I'm super excited to read! From the Goodreads synopsis: A story of the undead like you've never read before, Justina Ireland's Dread Nation is a fresh, stunning, and powerful meditation on race in America wrapped in an alternate-history adventure where Confederate and Union soldiers rise from the dead at the end of the Civil War.);
Devils Unto Dust, Emma Berquist (this is the other one I'm really excited about. YA western meets horror? YES);
Everless, Sara Holland;
Heart of Iron, Ashley Poston;
Even the Darkest Stars, Heather Fawcett;
The Door to January, Gillian French; and
The Final Six, Alexandra Monir.
I also received my pre-order of William Ritter's The Dire King, which is the fourth and final book in the Jackaby series. I love this series and I'm so sad that this is the final book!
Books read:
I finished three books, which puts my total at 81 books so far this year. I'm getting closer to my Goodreads goal of 100!
I read:
Brooklyn Girls, Gemma Burgess;
The Hate U Give, Angie Thomas; and
Archivist Wasp, Nicole Kornher-Stace.
Current reads: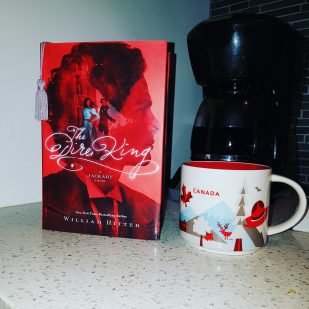 I'm reading The Dire King and I'm loving it! I'm definitely planning to finish it today.
I'm also reading Sparks of Light by Janet B. Taylor, and My Favorite Thing is Monsters, by Emil Ferris.
Reviews:
I posted my reviews of Juniper Lemon's Happiness Index, by Julie Israel, and The Hearts We Sold, by Emily Lloyd-Jones.
Time for me to get back to my book! Happy Sunday!