I did this survey last year (courtesy of Jamie from The Perpetual Page Turner) and was excited to do it again for 2014! I love looking back at what I've read throughout the year, and it helps me try to plan ahead for what I want to read in 2015.
I will also be sharing my personal list of favourite books I read this year, but this is a much more in depth examination of what I read, etc.
Note: As Jamie mentions, this is for books I read in 2014, regardless of when they were published.
2014 READING STATS
Number of Books Read (at the time of completing this survey)
I read 142 books in 2014, which is down from the 150 I read in 2013, but is still way more than I thought I'd read.
Number of Re-Reads
I re-read two books this year, both by Gillian Flynn! I re-read Gone Girl before the movie came out, because I just love that book and wanted to read it again right before I saw the movie, to refresh my memory on the story and characters. I also re-read Dark Places for book club.
I did not include my re-reads in the total number of books I read this year (if I did, that total would be 144).
Genre You Read The Most From
I'm just guessing, based on my reading preferences, that I probably read the most from supernatural/paranormal and science fiction.
2014 BEST IN BOOKS
1. Best Book You Read In 2014?
Hmm way too many to choose from! I'm going to cheat a bit. I think the best contemp YA I read this year was Winger by Andrew Smith; the best YA paranormal (which is totally my jam) was Unbreakable by Kami Garcia; and the best adult fiction that I read this year was either Bird Box by Joshua Malerman, Annihilation by Jeff Vandermeer, or The Girl with All the Gifts by M.R. Carey.
2. Book You Were Excited About & Thought You Were Going To Love More But Didn't?
Hands down this has to be Winterspell by Claire Legrand. I absolutely expected to love this one and ended up not enjoying it at all.
3. Most surprising (in a good way or bad way) book you read in 2014?
The Ocean at the End of the Lane by Neil Gaiman. Surprising because I went in hoping to love it because I'd read such glowing reviews, but I ended up feeling pretty meh.
4. Book You "Pushed" The Most People To Read (And They Did) In 2014?
Gone Girl by Gillian Flynn, especially with the movie out this year and my re-read of the book. I will probably continue to push this book on people in 2015!
5. Best series you started in 2014? Best Sequel of 2014? Best Series Ender of 2014?
Best series ender is absolutely Leigh Bardugo's Ruin and Rising. Best series I started in 2014: The Legion (Unbreakable and Unmarked) by Kami Garcia. Best sequel: Crown of Midnight by Sarah J. Maas (sequel to Throne of Glass).
6. Favorite new author you discovered in 2014?
New to me author? Hmm. Cara Lynn Shultz because I LOVED her book The Dark World.
7. Best book from a genre you don't typically read/was out of your comfort zone?
My True Love Gave to Me: short stories are really not my thing, and many of these stories, written by a variety of YA authors, were contemporary (which I keep saying is not my thing but I sure do end up reading lots of them!). And I loved this collection! So romantic and festive and fun.
8. Most action-packed/thrilling/unputdownable book of the year?
I think Ruin and Rising. I read it while I was in Toronto one weekend to go to a couple of baseball games, and I literally couldn't put the book down.
9. Book You Read In 2014 That You Are Most Likely To Re-Read Next Year?
Probably Gone Girl, again!! And Unbreakable and Unmarked, because I really love that series, and I will for sure want to re-read before the next in the series comes out.
10. Favorite cover of a book you read in 2014?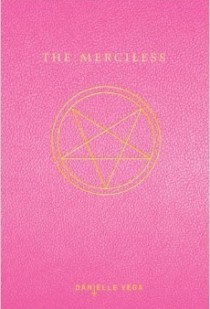 The Merciless by Danielle Vega. Look at it!
11. Most memorable character of 2014?
Celaena Sardothien! I read Crown of Midnight and Heir of Fire this year, and she is such a standout character above all others I read about in 2014!
 12. Most beautifully written book read in 2014?
Blue Lily, Lily Blue! I adore Maggie Stiefvater's writing.
13. Most Thought-Provoking/ Life-Changing Book of 2014?
I don't know…not sure if I really have an answer for this one. Well, I read the final two books in Mira Grant's Feed trilogy and that series made me think a lot about the media and leadership and, of course, zombies.
14. Book you can't believe you waited UNTIL 2014 to finally read?
Sabriel by Garth Nix! I'd been hearing great things about it for what seemed like forever and I just can't believe I waited so long to read it myself.
15. Favorite Passage/Quote From A Book You Read In 2014?
Oh boy, I never write down or flag quotes/passages when I read. Maybe I should start doing that!!
16.Shortest & Longest Book You Read In 2014?
Shortest: Jonathan Livingston Seagull by Richard Bach
Longest: Impulse by Ellen Hopkins
17. Book That Shocked You The Most
(Because of a plot twist, character death, left you hanging with your mouth wide open, etc.)
Blue Lily, Lily Blue. And Anatomy of a Misfit and Winger both shocked me and left me somewhat heartbroken.
18. OTP OF THE YEAR (you will go down with this ship!)
(OTP = one true pairing if you aren't familiar)
Chaol and Celaena!
19. Favorite Non-Romantic Relationship Of The Year
Maybe Paige and Dottie from The Dark World. I liked their friendship. And definitely the friendships between the characters in Maggie Stiefvater's The Raven Cycle books.
20. Favorite Book You Read in 2014 From An Author You've Read Previously
Blackout and Deadline by Mira Grant were fabulous (part of her series that began with Feed).
21. Best Book You Read In 2014 That You Read Based SOLELY On A Recommendation From Somebody Else/Peer Pressure
Not A Drop to Drink by Mindy McGinnis! This book exceeded all of my expectations, and it was very highly recommended to me.
22. Newest fictional crush from a book you read in 2014?
Chaol from the Throne of Glass series (although I'm not sure that this is new – I think this was my pick in last year's survey!).
23. Best 2014 debut you read?
Off the top of my head, I would say Falling Into Place by Amy Zhang.
24. Best Worldbuilding/Most Vivid Setting You Read This Year?
I feel like there were so many books with great worldbuilding that I read this year: books in the Grisha series by Leigh Bardugo; books in Sarah J. Maas' Throne of Glass series; Mindy McGinnis's Not a Drop to Drink; books in the Newsflesh series by Mira Grant.
25. Book That Put A Smile On Your Face/Was The Most FUN To Read?
To All the Boys I've Loved Before, by Jenny Han!
26. Book That Made You Cry Or Nearly Cry in 2014?
Blue Lily, Lily Blue by Maggie Stiefvater. I don't cry very often when it comes to books, but Maggie Stiefvater's writing is so beautiful and this book is sad and wonderful and full of magic. LOVE.
27. Hidden Gem Of The Year?
Smart by Kim Slater, and The Dark World by Cara Lynn Schultz.
28. Book That Crushed Your Soul?
ANYTHING by Maggie Stiefvater: Sinner; Blue Lily, Lily Blue. Soul crushing because the book hangovers I experienced after her gorgeous writing and such fully realized characters were super tough to get over.
29. Most Unique Book You Read In 2014?
Horrorstor by Grady Hendrix certainly had the most unique format!
30. Book That Made You The Most Mad (doesn't necessarily mean you didn't like it)?
Ignite Me by Tahereh Mafi! The ending of this series had me super upset and frustrated and I could rant for a very long time about it!
YOUR BLOGGING/BOOKISH LIFE
1. New favorite book blog you discovered in 2014?
I'm going to say the Book Riot site. I've listened to their podcast for a while but never really read their site before this year.
2. Favorite review that you wrote in 2014?
Not sure that it's published at the time of posting this survey, but I like my Blue Lily, Lily Blue review. It's so difficult to put into words how much I love this series and why I feel the way I do about it, but I think I did my best.
3. Best discussion/non-review post you had on your blog?
I like my Why I Love…posts, especially the ones about loving video games and Supernatural. Non-book things!
4. Best event that you participated in (author signings, festivals, virtual events, memes, etc.)?
Attending my first BEA in New York City!
5. Best moment of bookish/blogging life in 2014?
I'm probably going to go with attending my first BEA again. There was just so much to see and do in New York City and at BEA itself and so many people to meet!
And meeting Maggie Stiefvater in Toronto! I was so excited and anxious and shy and then probably made a fool of myself.
6. Post You Wished Got A Little More Love?
Any of my reviews!
7. Best bookish discovery (book related sites, book stores, etc.)?
Last year I said the Book Riot podcast, and I'm having a tough time coming up with a different answer for 2014.
8. Did you complete any reading challenges or goals that you had set for yourself at the beginning of this year?
I set a Goodreads challenge of 100 books initially, then increased it to 115, and I've exceeded that, so yay! I also had a goal to read more books from my own bookshelf, and to use the library more. To be honest, I don't know if I did that great a job at reading from my already-owned books, but I think I used the library more this year than I did last year. Or at least I read more of the books I took out from the library in 2014 than I did in 2013.
LOOKING AHEAD
1. One Book You Didn't Get To In 2014 But Will Be Your Number 1 Priority in 2015?
Rites of Passage by Joy N. Hensley.
2. Book You Are Most Anticipating For 2015 (non-debut)?
Lair of Dreams by Libba Bray!
3. 2015 Debut You Are Most Anticipating?
Hmm not sure on this one. Maybe Red Queen by Victoria Aveyard?
4. Series Ending/A Sequel You Are Most Anticipating in 2015?
The final book in the Raven Cycle by Maggie Stiefvater!
5. One Thing You Hope To Accomplish Or Do In Your Reading/Blogging Life In 2015?
Sadly, I can't attend BEA this year, which would have been my answer! But I would really like to keep consistently posting reviews like I did this year, and I'd like to have more discussion posts in 2015.
6. A 2015 Release You've Already Read & Recommend To Everyone
Marie Rutkoski's The Winner's Crime!
Well there you have it! 2014 was a very great bookish year, and now it's time for me to look ahead and plan for 2015!