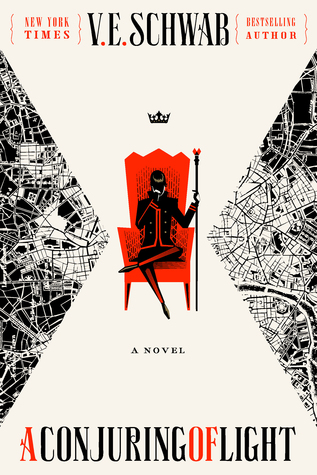 A Conjuring of Light
By V.E. Schwab Series:
Shades of Magic #3
Source
Purchased
Published by
Tor Books
on February 21, 2017
Rating:

Cover image and synopsis from Goodreads:

Witness the fate of beloved heroes - and enemies.

THE BALANCE OF POWER HAS FINALLY TIPPED...
The precarious equilibrium among four Londons has reached its breaking point. Once brimming with the red vivacity of magic, darkness casts a shadow over the Maresh Empire, leaving a space for another London to rise.

WHO WILL CRUMBLE?
Kell - once assumed to be the last surviving Antari - begins to waver under the pressure of competing loyalties. And in the wake of tragedy, can Arnes survive?

WHO WILL RISE?
Lila Bard, once a commonplace - but never common - thief, has survived and flourished through a series of magical trials. But now she must learn to control the magic, before it bleeds her dry. Meanwhile, the disgraced Captain Alucard Emery of the Night Spire collects his crew, attempting a race against time to acquire the impossible.

WHO WILL TAKE CONTROL?
And an ancient enemy returns to claim a crown while a fallen hero tries to save a world in decay.
This is one of my favourite series! (You can read my reviews of books one and two: A Darker Shade of Magic and A Gathering of Shadows) I was super super super excited to read this book, especially when I saw that it was over 600 pages. I didn't want this series to be over!
I love these characters and the world(s) that Victoria Schwab has created. Her writing is so fantastic, and it was so great to lose myself in this story. I had no idea where things were going to go or what was going to happen or how things were going to end, and I just loved that. The story took twists and turns that kept me on my toes, and I was really worried that some of my beloved characters were not going to survive this book.
I am so sad that this series is over, but I'm hopeful that Victoria Schwab might write more about these characters in the future. There are so many stories to be told still!!
This is a five-star must-read series.