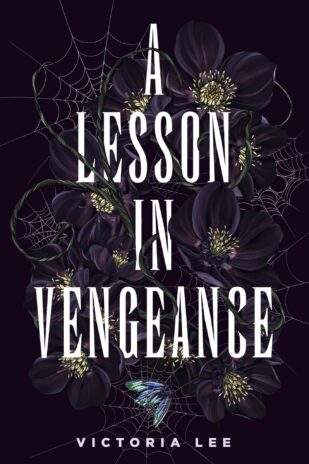 A Lesson In Vengeance
By Victoria Lee Source
Received from the publisher
Published by
Delacorte Press
on August 3, 2021
Received from the publisher in exchange for an honest review. This does not affect my opinion of the book or the content of my review.
Rating:

Felicity Morrow is back at Dalloway School.

Perched in the Catskill mountains, the centuries-old, ivy-covered campus was home until the tragic death of her girlfriend. Now, after a year away, she's returned to graduate. She even has her old room in Godwin House, the exclusive dormitory rumored to be haunted by the spirits of five Dalloway students—girls some say were witches. The Dalloway Five all died mysteriously, one after another, right on Godwin grounds.

Witchcraft is woven into Dalloway's history. The school doesn't talk about it, but the students do. In secret rooms and shadowy corners, girls convene. And before her girlfriend died, Felicity was drawn to the dark. She's determined to leave that behind her now; all Felicity wants is to focus on her senior thesis and graduate. But it's hard when Dalloway's occult history is everywhere. And when the new girl won't let her forget.

It's Ellis Haley's first year at Dalloway, and she's already amassed a loyal following. A prodigy novelist at seventeen, Ellis is a so-called "method writer." She's eccentric and brilliant, and Felicity can't shake the pull she feels to her. So when Ellis asks Felicity for help researching the Dalloway Five for her second book, Felicity can't say no. Given her history with the arcane, Felicity is the perfect resource.

And when history begins to repeat itself, Felicity will have to face the darkness in Dalloway–and in herself.
I loved the setting, but this book wasn't as interesting or as spooky as I'd hoped! I guess I expected the Dalloway Five and witchcraft to come into play more than they did, although I did enjoy the dark academia vibes.
The unreliable narrator thing didn't quite work for me View Spoiler » (I still don't really understand why Felicity completely fabricated what happened to Alex, and the revelation that she had done so was strange and jarring) « Hide Spoiler, and I thought the ending was fairly predictable and lacked whatever punch it was trying to land. I think the ending depended on a lot of things that I just couldn't bring myself to buy into.
But I really loved the atmosphere and boarding school setting, and so I do have positive feelings towards the book, even if I didn't love it.