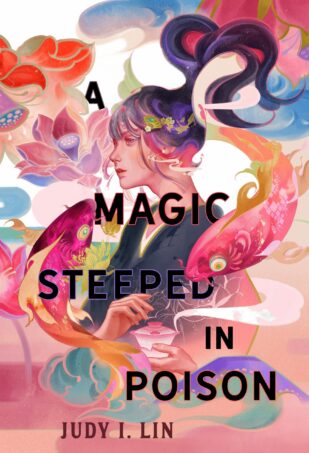 A Magic Steeped In Poison
By Judy I. Lin Series:
The Book of Tea #1
Source
Received from the publisher
Published by
Feiwel and Friends
on March 29, 2022
Received from the publisher in exchange for an honest review. This does not affect my opinion of the book or the content of my review.
Rating:

For Ning, the only thing worse than losing her mother is knowing that it's her own fault. She was the one who unknowingly brewed the poison tea that killed her—the poison tea that now threatens to also take her sister, Shu.

When Ning hears of a competition to find the kingdom's greatest shennong-shi—masters of the ancient and magical art of tea-making—she travels to the imperial city to compete. The winner will receive a favor from the princess, which may be Ning's only chance to save her sister's life.

But between the backstabbing competitors, bloody court politics, and a mysterious (and handsome) boy with a shocking secret, Ning might actually be the one in more danger.
First of all, how gorgeous is that cover? It definitely caught my eye and made me want to know what the book was about!
This was an atmospheric, beautifully written fantasy and I loved the magic system! Reading about the different kinds of tea and preparation, and seeing how different regions prepared and served it, was so fun to read about! And the setting – I love a palace (and the intrigue that comes with it).
I really liked reading about the competition, and the political intrigue was interesting, but eventually I felt overwhelmed by all the characters and how much was happening. Sometime near 50% through the book, my interest waned.
The end of the story has me very intrigued and needing to read the sequel, which comes out later this year, so at least there won't be a long wait to see what happens next!