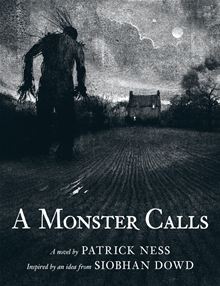 A Monster Calls
By Patrick Ness, Jim Kay (Illustrator), Siobhan Dowd (Conception) Source
Purchased
Published by
Walker Books
on September 27, 2011
Rating:

An unflinching, darkly funny, and deeply moving story of a boy, his seriously ill mother, and an unexpected monstrous visitor.

At seven minutes past midnight, thirteen-year-old Conor wakes to find a monster outside his bedroom window. But it isn't the monster Conor's been expecting - he's been expecting the one from his nightmare, the nightmare he's had nearly every night since his mother started her treatments. The monster in his backyard is different. It's ancient. And wild. And it wants something from Conor. Something terrible and dangerous. It wants the truth.

From the final idea of award-winning author Siobhan Dowd - whose premature death from cancer prevented her from writing it herself - Patrick Ness has spun a haunting and darkly funny novel of mischief, loss, and monsters both real and imagined.
I'd heard about this book for a while and was intrigued by it. This was a quick read, but it was engrossing and moving.
Conor is 13 years old, living with his mother, who is sick. While the nature of her illness is not stated outright, readers will pick up on Ness's clues and see that she has cancer. Conor and his mother both seem to be in denial about the seriousness of her illness. Conor's grandmother (his mother's mother) appears to be the only one who tries to have him see the truth – for example, she tries to talk to Conor about having him move in with her eventually, but it doesn't go well.
Conor is having trouble at school, too. He is being bullied by a classmate and constantly feels the eyes of all the students and teachers on him, feeling sorry for him about his mother. And so one night, Conor wakes to find a monster standing outside his window, saying he's been called by Conor.
The monster continues to appear to Conor, telling him three stories over the course of the book, and tells Conor that when he is finished, Conor will tell the monster his own story. Each of the monster's stories seem to go in one direction, but ended up taking me (and Conor) by surprise.
Along the way, Conor's father comes to visit from America – another sign that his mother's health is getting worse, but Conor continues to deny that she will not get better. His unwillingness to consider that she might die is present throughout most of the novel, and when he finally tells his story to the monster, I could feel the weight of his guilt and sadness. I was surprised by how powerful this part of the book was.
There were also some great black and white illustrations sprinkles throughout the book, which really helped bring the story and the monster to life while I read.
This book is a well-written, sad story about loss. I've read a number of reviews written by people who were moved to tears by this book. I can't say that happened to me, but I'm not one to cry because of a book. If you're looking for a strong, moving story, then this is a book for you.