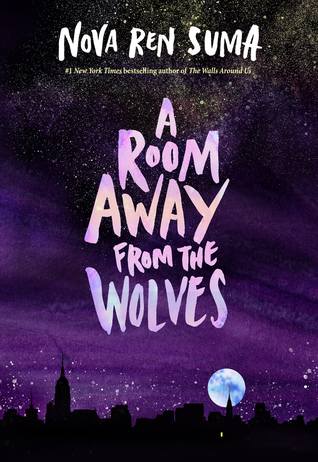 A Room Away From The Wolves
By Nova Ren Suma Source
Received from the publisher
Published by
Algonquin Young Readers
on September 4, 2018
Received from the publisher in exchange for an honest review. This does not affect my opinion of the book or the content of my review.
Rating:

Bina has never forgotten the time she and her mother ran away from home. Her mother promised they would hitchhike to the city to escape Bina's cruel father and start over. But before they could even leave town, Bina had a new stepfather and two new stepsisters, and a humming sense of betrayal pulling apart the bond with her mother—a bond Bina thought was unbreakable.

Eight years later, after too many lies and with trouble on her heels, Bina finds herself on the side of the road again, the city of her dreams calling for her. She has an old suitcase, a fresh black eye, and a room waiting for her at Catherine House, a young women's residence in Greenwich Village with a tragic history, a vow of confidentiality, and dark, magical secrets. There, Bina is drawn to her enigmatic downstairs neighbor Monet, a girl who is equal parts intriguing and dangerous. As Bina's lease begins to run out, and nightmare and memory get tangled, she will be forced to face the terrible truth of why she's come to Catherine House and what it will take for her to leave...
I've read and really enjoyed two of Nova Ren Suma's previous books, so as soon as I heard that she had a new book coming out this month, I knew that I had to read it! I was so excited to receive an ARC from the Canadian distributor, Thomas Allen & Son, and participate in this blog tour. Be sure to check out the giveaway at the end of the post!
There is a dream-like quality to Nova Ren Suma's writing that I love. She has such a way with words that I felt pulled in to Bina's story right away, and as eager as I was to understand what was happening at Catherine House, I was happy to take my time getting to the end of the book to put the pieces together.
To discuss the plot too much risks spoiling the experience of reading this book, and so much of what I got out of this book was based on not knowing much going in. But I think I can safely say that A Room Away From The Wolves is tense and atmospheric, unsettling and a little creepy, but so hard to put down. I had to know what had happened and what would happen next, and in the end I found that there were no easy answers.
Bina's story is heartbreaking, beautifully written, and one that I'll be thinking about for some time. Recommended.
Purchase a copy for yourself:
Indigo: http://ow.ly/xH6W30lrT1x
Amazon.ca: http://ow.ly/9dES30lrT5N
Amazon.com: http://ow.ly/K6GA30lrTbt
About the author:
Nova Ren Suma is the author of the #1 New York Times bestselling The Walls Around Us, a finalist for an Edgar Award. She also wrote Imaginary Girls and 17 & Gone and is co-creator of FORESHADOW: A Serial YA Anthology. She has an MFA in fiction from Columbia University and teaches at Vermont College of Fine Arts. She grew up in the Hudson Valley, spent most of her adult life in New York City, and now lives in Philadelphia.
Follow Nova Ren Suma:
Website: https://novaren.com/
Twitter: @novaren (http://ow.ly/Bnvf30lrQeh)
Facebook: http://ow.ly/pvQl30lrQnM
Goodreads: http://ow.ly/IZ1630lrQsZ
Giveaway:
The winner will receive 1 copy of A Room Away From the Wolves (HC) by Nova Ren Suma, from the publisher.

Enter the giveaway:
Giveaway Details:
• Canada Only (full rules found in the T&C on Rafflecopter)
• Giveaway ends on Tuesday Sep. 18th at 11:59 pm EST
• Winner will be drawn randomly through Rafflecopter, contacted via email & will have 48 hours to claim their prize
Be sure to check out the other stops on the blog tour!