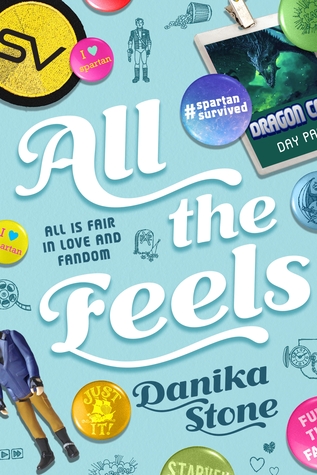 All The Feels
By Danika Stone Source
Received from the publisher
Published by
Swoon Reads
on June 7, 2016
Received from the publisher in exchange for an honest review. This does not affect my opinion of the book or the content of my review.
Rating:

Cover image and summary from Goodreads:

College freshman Liv is more than just a fangirl: The Starveil movies are her life… So, when her favorite character, Captain Matt Spartan, is killed off at the end of the last movie, Liv Just. Can't. Deal.

Tired of sitting in her room sobbing, Liv decides to launch an online campaign to bring her beloved hero back to life. With the help of her best friend, Xander, actor and steampunk cosplayer extraordinaire, she creates #SpartanSurvived, a campaign to ignite the fandom. But as her online life succeeds beyond her wildest dreams, Liv is forced to balance that with the pressures of school, her mother's disapproval, and her (mostly nonexistent and entirely traumatic) romantic life. A trip to DragonCon with Xander might be exactly what she needs to figure out what she really wants.
From the moment I first heard about this book, I knew I had to read it. A book about fandom sounded like something so up my alley! When I love something – a movie, a TV show, a book, a band – I go all-in, kind of obsessively (if you have ever talked to me about my fave show, Supernatural, you have experienced this first-hand). So when I learned that there was a book coming out all about a girl and her fandom, I was immediately interested.
I loved All the Feels! There was so much about Liv and her fandom that I could identify with, and one of my favourite little things to pick up on were the chapter titles, which were all quotes from various shows with passionate fan bases (including my beloved Supernatural!). I also loved that the value and importance of online friendships was such a big factor in this book (definitely something I've learned through blogging).
A big part of what I enjoyed about this book was the message to be yourself, and to love what you love unashamedly and without reservation. The older I get, the more confidence I have in who I am, what I believe, and what I like. And I don't hide any of that or feel guilty or silly or shy about any of it – at least, not the way I used to when I was younger (I'm still a work in progress!). Liv's friend Xander wears cosplay every day and that's when he is most himself, and I loved him for it!
There was so much that I loved about this book, but when it comes to Liv's relationship with her mother (and her mother's terrible boyfriend), I didn't really feel like things were resolved. I wish I could have seen some sort of understanding from Liv's mother about fandom and what it meant to Liv.
Overall, this was such a fun, heartwarming read, highly recommended for fellow fangirls!