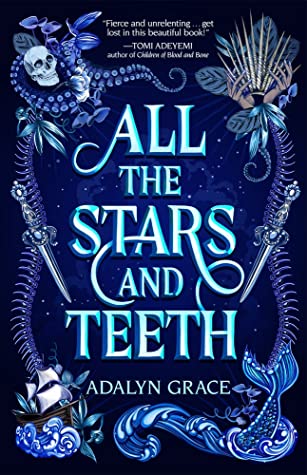 All The Stars And Teeth
By Adalyn Grace Series:
All the Stars and Teeth #1
Source
Received from the publisher
Published by
Imprint
on February 4, 2020
Received from the publisher in exchange for an honest review. This does not affect my opinion of the book or the content of my review.
Rating:

Set in a kingdom where danger lurks beneath the sea, mermaids seek vengeance with song, and magic is a choice.

She will reign.

As princess of the island kingdom Visidia, Amora Montara has spent her entire life training to be High Animancer — the master of souls. The rest of the realm can choose their magic, but for Amora, it's never been a choice. To secure her place as heir to the throne, she must prove her mastery of the monarchy's dangerous soul magic.

When her demonstration goes awry, Amora is forced to flee. She strikes a deal with Bastian, a mysterious pirate: he'll help her prove she's fit to rule, if she'll help him reclaim his stolen magic.

But sailing the kingdom holds more wonder — and more peril — than Amora anticipated. A destructive new magic is on the rise, and if Amora is to conquer it, she'll need to face legendary monsters, cross paths with vengeful mermaids, and deal with a stow-away she never expected… or risk the fate of Visidia and lose the crown forever.
This was a fun, engaging fantasy with some really interesting magic and great action scenes. I liked the group of four who ended up having to work together, and I really enjoyed seeing Princess Amora realize just how little she knew about her kingdom and her own magic.
While the story moved at a brisk pace initially, it stalled for me towards the end. The romance was fine, but I was more interested in the way Amora and the others had to work together despite not trusting (or even liking) each other at first. Seeing that turn into relationships based on trust and the way they had to rely on each other further into the book to survive was way more interesting to me than any romance that may have been developing.
The ending has me really intrigued by what might be coming in book two, so I will definitely be checking out the sequel, All the Tides of Fate, when it comes out next year.