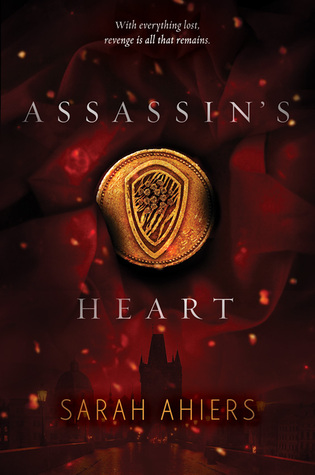 Assassin's Heart
By Sarah Ahiers Series:
Assassin's Heart #1
Source
Received from the publisher
Published by
HarperTeen
on February 2, 2016
Rating:

In the kingdom of Lovero, nine rival Families of assassins lawfully kill people for a price. As a highly skilled member of one of these powerful clans, seventeen-year-old Lea Saldana has always trusted in the strength of her Family. Until she awakens to find them murdered and her home in flames. The Da Vias, the Saldanas' biggest enemy, must be responsible—and Lea should have seen it coming. But her secret relationship with the Da Vias' son, Val, has clouded her otherwise killer instinct—and given the Da Vias more reason than ever to take her Family down.

Racked with guilt and shattered over Val's probable betrayal, Lea sets out to even the score, with her heart set on retaliation and only one thought clear in her mind: make the Da Vias pay.
I started to read this because I'm trying to work my way through some older ARCs and e-ARCs, and I was really intrigued by the synopsis. I was excited to read about a girl assassin!
I thought the fighting and action scenes in this book were really good, and I loved the mythology around the ghosts. I loved the idea of the Nine Families and clippers, andI really liked that it didn't take too long for the action to start.
About halfway through I started to feel like things stalled. The middle of the book felt so slow to me. And I knew there was a major romance component to this story going in, and I really tried to like that part of the story, but I didn't. I was most interested in Lea and her family (and Family) relationships, more than I was in any romantic relationships.
The end of the book was really great and action-packed and pulled me back in, but the middle felt like a bit of a slog.
As for characters, I really liked Lea. She was kind of messy and complicated, and she had to come to terms with the death of her entire family, her feelings of guilt over what she perceives as her role in that, and then trying to plot her revenge while basically being cast out from her city, with nothing and no one to rely on (at least at first). The other characters were much less interesting to me, but some of them were given really intriguing back stories.
I liked that Lea wasn't perfect. She made mistakes, sometimes because she was blinded by emotion and sometimes because she was trying to make the best out of a bad situation. But I liked her growth through the course of the book.
Overall, this was a fun book, but I wish there had been a little more action, or that it had been spread out more so that the middle didn't feel like such a lull compared to the rest.