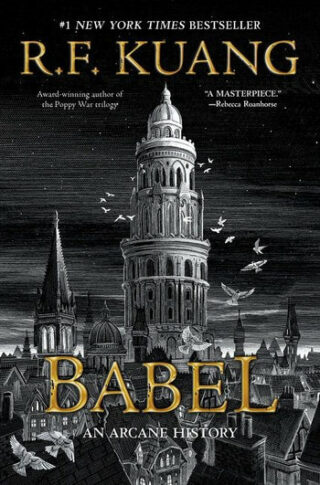 Babel
By R.F. Kuang Source
Received from the publisher
Published by
Harper Voyager
on August 23, 2022
Received from the publisher in exchange for an honest review. This does not affect my opinion of the book or the content of my review.
Rating:

Traduttore, traditore: An act of translation is always an act of betrayal.

1828. Robin Swift, orphaned by cholera in Canton, is brought to London by the mysterious Professor Lovell. There, he trains for years in Latin, Ancient Greek, and Chinese, all in preparation for the day he'll enroll in Oxford University's prestigious Royal Institute of Translation—also known as Babel.

Babel is the world's center for translation and, more importantly, magic. Silver working—the art of manifesting the meaning lost in translation using enchanted silver bars—has made the British unparalleled in power, as its knowledge serves the Empire's quest for colonization.

For Robin, Oxford is a utopia dedicated to the pursuit of knowledge. But knowledge obeys power, and as a Chinese boy raised in Britain, Robin realizes serving Babel means betraying his motherland. As his studies progress, Robin finds himself caught between Babel and the shadowy Hermes Society, an organization dedicated to stopping imperial expansion. When Britain pursues an unjust war with China over silver and opium, Robin must decide…

Can powerful institutions be changed from within, or does revolution always require violence?
This was one of my highly-anticipated novels, because I do enjoy dark academia, and the magic involving silver and translation really intrigued me.
This was so dense and really took some time for me to get into the reading rhythm. But once I did, I loved it. I really enjoyed the academia, and showing how it isolated Robin and the others. All of the footnotes and etymology and discussion about translation were so interesting for me and I had fun just getting lost in the minutiae. I also appreciated the examination of colonialism and thought it was really well-done in terms of weaving it into Robin's story without always explicitly discussing it, but still illustrating its impact (while at other times it is explicitly talked about).
The last couple of parts of the book went in a different direction and changed the tone and raised the stakes, and I had some difficulty adjusting at first. As for the ending, I can't say I liked it but I understood it.
This was definitely a book that exceeded my expectations! If you like dark academia, this is a must-read!