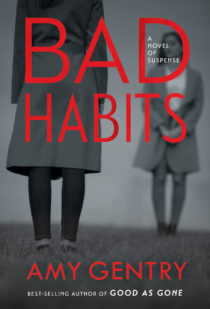 Bad Habits
By Amy Gentry Source
Scribd
Published by
Houghton Mifflin Harcourt
on February 2, 2021
Rating:

Claire "Mac" Woods--a professor enjoying her newfound hot-shot status at an academic conference--finally has the acceptance and admiration she has long craved. But at the conference's hotel bar, Mac is surprised to run into a face from a past she'd rather forget: the moneyed, effortlessly perfect Gwendolyn Whitney, Mac's foil, rival, and former best friend.

When Gwen moved to town in high school, Claire--then known as Mac, a poor kid from a troubled family who had too much on her plate--saw what it meant to have. Money, sophistication, culture, the very blueprints to success. Mac had almost nothing, except the will to change. Change she did, habitually grinding herself to work as hard as straight-A Gwen, even eventually getting admitted into the same elite graduate program as Gwen. But then Mac and Gwen become entangled with the department's power-couple professors and compete head-to-head for a life changing fellowship. The more twisted the track toward success becomes, the more Mac has to contort herself to stay one step ahead--which deception signals the point of no return?

Jack-knifing between Mac's world-expanding graduate days and the crucible of the hotel and its unexpected guests, BAD HABITS follows Mac's reckoning between her hardscrabble past and tenuous present. What, exactly, did Mac do to get what she has today? And what will she do to keep it? With taut, powerful prose, Amy Gentry asks how far we'll go to get what we want--and whether we can ever truly leave the past behind.
This was a decent page turner and I liked it overall. This was probably my favourite of Amy Gentry's books that I've read.
The jumps back and forth in time were fun and kept me engaged because it constantly kept me wanting to know more about each timeline. And while I do enjoy a story about female friendships, I thought that when the story became more and more about the girls' relationships with the professors at their school, my interest waned.
I thought the story was at its strongest when exploring the push and pull between Mac and Gwen. Recommended.