I did it! I survived my very first BEA and it was awesome! Get ready for a rather lengthy post as I go over what I did, any tips or things I'd do differently for next year, and the books I received!
What I Did
After a long (nearly 12 hour) bus ride from Ottawa to New York City, Kathy and I made it to the bus station and stored our luggage. I should mention that crossing the border and explaining BEA and book blogging to the border guard (and that we don't make any money for doing it) was the funny highlight of the journey. He looked at us like we were nuts.
While we waited for our other Ottawa bloggers to arrive, we killed some time walking around the city, and hit up the Nintendo World Store (for me) and Barnes & Noble (for Kathy, to buy the new Cassandra Clare book).  The number of people in the city was initially so overwhelming! This was my first time in NYC, and I was constantly in awe of the people and the buildings.
Taking the subway was so fun. We don't have one here in Ottawa, and I've taken the subway before (in Boston and Montreal), but I was amazed by how fast and convenient it was! I loved the subway! I spent $30 for a weekly pass, and it was so worth it.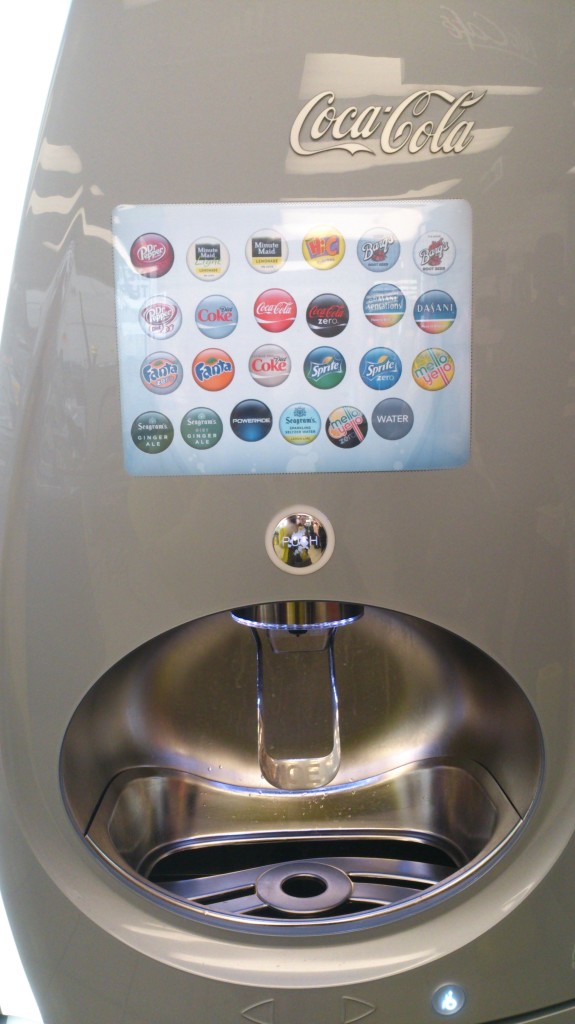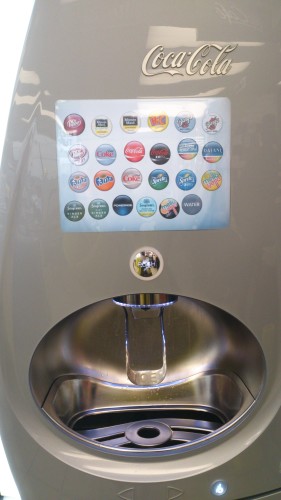 Once Katherine, Emilie, and Katie got in, we went to a McDonalds with the strangest beverage machine I've ever encountered (BUT I had Vanilla Diet Coke for the first time in like five years, so even though I looked like a fool trying to figure out the computer inside the drink machine, it was totally worth it), and then hit up The Strand, where I purchased Josie McQuein's Arclight and Meridian.
Then it was back to the apartment to prep for the Blogger Conference the following day.
I was excited for the Blogger Conference because Maureen Johnson was going to be speaking at the breakfast. Let me tell you, she did not disappoint! She was insightful and hilarious, and I am so happy that I was able to attend!
The panels were somewhat informative and I was happy to see that I knew some of the information re: blogging and software already. As I've said before, my husband is a web designer and made my blog, so I've been learning slowly how to manage, maintain, and update it myself. I'd like to be self-sufficient when it comes to my blog!
I'm sure you've heard already about the drama surrounding the last panel re: vloggers/bloggers. There was a lot of confusion and I certainly wish it had been handled better, but it is what it is. The real story of the day (for me) is that at the conference after-party I got to meet my favourite author, Libba Bray! I totally fangirled and hyperventilated while telling her how much I loved her books, so I hope I didn't frighten her. There were also some ARCs that I was excited about (see below for the books I picked up during the week).
That night, I went to Teen Author Carnival with Emilie and Katherine and heard a bunch of awesome YA authors speak about their books and various topics during two separate panels. Honestly, hearing people read from their own books always makes me want to read their books! Everyone seemed so nice, and the panels were really interesting.
A major highlight was Claire LeGrand talking about / reading from the upcoming Winterspell, which I pre-ordered ages ago! I'm so excited for that one! Another highlight was meeting Ann Stampler, who was incredibly friendly and signed an Afterparty poster for me.
When it was over, we had Chipotle for dinner (yum!) and made our way back to the apartment to rest up for the start of BEA.
I also want to say that it was awesome to finally meet Kelly, who we also stayed with, in person after chatting online for so long!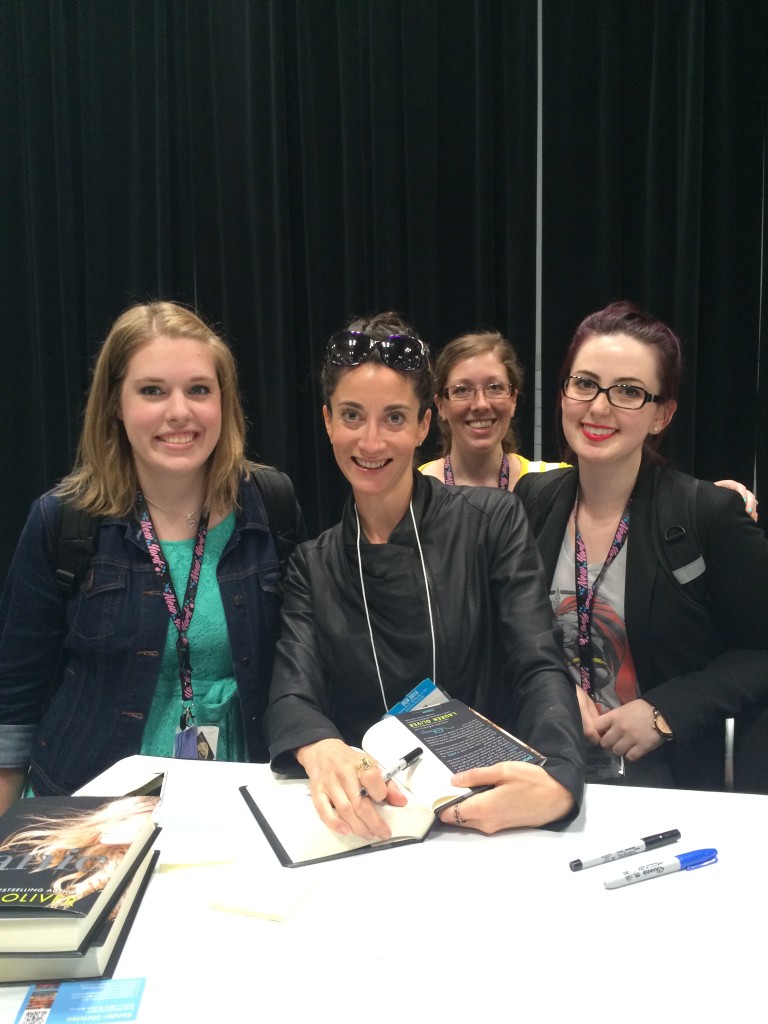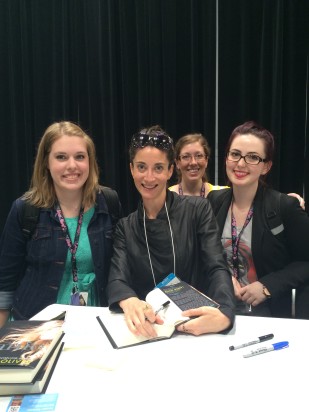 Thursday was the official first day of BEA. I was there when the doors opened, and it was pretty chaotic. However, I was lucky enough to receive some ARCs that I was super excited for, and then I got in line for the autographing tables. My first was Lauren Oliver for Rooms. I was beyond excited for this, and I met her when she came to Ottawa last fall to read from Panic. She was so friendly and happy to chat (and then she remembered me when I was in line the next day for her Panic signing, and took a picture with Emilie, Katherine, and I). It was a great way to kick off my first day of my first BEA!
Overall, the line ups for signing and galley drops were more organized than I'd anticipated. Occasionally there was some confusion but I found that for the number of people attending, things ran fairly smoothly.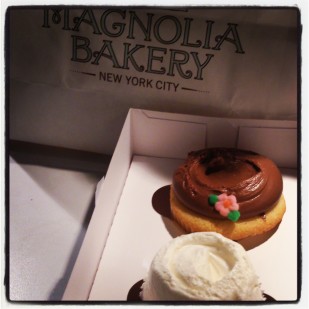 At the end of the day, I got myself a giant pretzel from a street vendor and walked back to the apartment. I ended up going out to Magnolia Bakery for some delicious cupcakes (red velvet, and vanilla with chocolate icing), and then to Shake Shack for dinner with Kathy and Emilie. We also hit up the NBC store where I got a souvenir for my husband, and I couldn't resist buying a t-shirt for myself.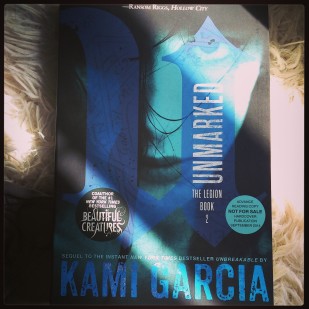 I went later in the day for the second and third days of BEA. I just didn't want to be part of the initial frenzy when the doors opened, so I wound up feeling much more relaxed on those days. I met some more awesome people in lines and while wandering around, and I have to say, the highlight was finding out that Little, Brown was dropping not only two of my most anticipated BEA books (Kendall Kulper's Salt & Storm, and Holly Black's The Darkest Part of the Forest), BUT they were dropping ARCs of Kami Garcia's Unmarked, sequel to Unbreakable, one of my favourite books!!! I was freaking out. I didn't even know that Unmarked was going to be at BEA, so when I saw that, I knew I couldn't leave New York without that book. I had just done a WoW post about it the day before! When I got my hands on it, I could not stop smiling.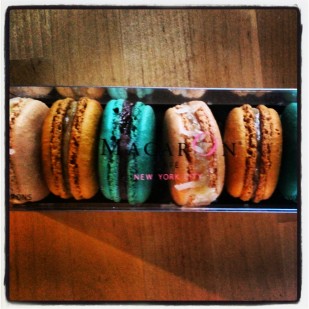 I ended up at dinner that night with Katherine, Emilie, and Katherine's friend at a place called the Gotham West Market, where I had a delicious fancy grilled cheese sandwich. We walked around and it was nice to see a slightly different part of the city than I'd seen so far (even if we did get rained on a bit!). We also stopped for macarons, yum!
Saturday was the dreaded BookCon day, which others who attended BEA in past years were already unhappy with. I was apprehensive, based on things I'd heard from others, but wanted to be optimistic and hoped it just be a slightly busier version of the previous days.
Well, it was a zoo. The amount of people who attended and were packed into that room was frightening. I skipped everything I'd planned to do that day (including a do-over to meet Libba Bray at a signing) because it was on the BookCon side of the floor, and after getting jostled and bumped and pushed, I decided to avoid that side entirely.
I ended up on the much-quieter BEA side talking to people at publishing booths and receiving some ARCs I'd missed out on earlier in the week.
Katherine and Emilie and I left early in the afternoon, and we hit up FAO Schwartz, took a carriage ride through Central Park, did some shopping, and capped off our final night with a delicious steak dinner.
Then it was back to the apartment, where I finally had to pack, and prepare to leave the next morning.
The bus ride back to Ottawa seemed much faster than the ride to New York City. As much fun as I had, I was definitely looking forward to seeing my husband, sleeping in my own bed, doing laundry, and unpacking my books!
Tips/Things I'd Do Differently
I'm not even sure that BEA is in my budget for next year, but I had such a great time that I'm already saving up to try to go and do it again! That said, there are some things that I would do differently, and a few tips for people going perhaps for the first time in 2015:
1. Comfortable shoes! I think this is everyone's top tip, and I have to agree. You'll be on your feet all day, and you don't want to have blisters or uncomfortable shoes. Other than just being tired of standing for so long, I wore comfy shoes and had zero problems!
2. While the bus was fairly inexpensive, I think that if I were to go again, I'd pay a bit more and take the train (or get a ride with someone). The bus seats bothered my back, and with a 12-ish hour ride each way, I'd rather spend more money for a more comfortable trip
3. We lucked out with a great apartment one block away from the Javits Center. I highly recommend looking into apartment sharing/rental sites, rather than hotels. The closer you can stay, the more you can sleep in the mornings!
4. Get out and see the city! While it seems like you'll be so busy and tired (which is true), there is just so much to see and do in New York. Having never been to the city before, I was overwhelmed with how much there was to do and in such a short period of time knew I wouldn't get to it all, but I am so so so happy that I did some of it!
5. Water! Make sure you have water, and some snacks, on hand to have throughout the day. It can be so hectic that you won't realize how much time has passed since you last had something to eat/drink
6. I wish I had been less shy and had approached bloggers that I have talked to via Twitter. I had no problem talking with strangers that I met in various lines, but when I saw someone across the floor that I recognized and have interacted with online, I got super shy about going up to say hi and introduce myself. I'll definitely be more brave next time.
The Books
I purchased a couple of books this week (in addition to Arclight and Meridian), slightly post-BEA, that I'll mention here because otherwise I'll forget: Just One Night by Gayle Forman, and Pretty Little Liars: Toxic by Sara Shepard.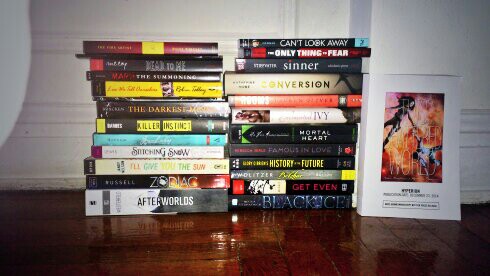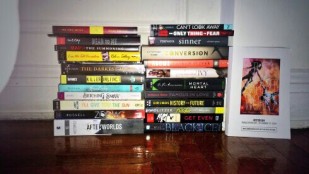 I received the following at the Blogger Conference party:
This Shattered World (Starbound #2) by Amie Kaufman and Meagan Spooner  YEEEESSSSS! So excited for this one!
The Only Thing to Fear by Caroline Tung Richmond
Mary: The Summoning (Bloody Mary #1) by Hillary Monahan
Jackaby by William Ritter  BTW, the back of the book says this is Dr. Who meets Sherlock. Yes please!
Stitching Snow by R.C. Lewis
Killer Instinct (The Naturals #2) by Jennifer Lynn Barnes
Zodiac by Romina Russell
The Darkest Minds by Alexandra Bracken
I received the following at Teen Author Carnival:
Enchanted Ivy by Sarah Beth Durst
Lies We Tell Ourselves by Robin Talley
Books from BEA/BookCon (in no particular order):
Sublime by Christina Lauren
The Walled City by Ryan Graudin
The Darkest Part of the Forest by Holly Black
Salt & Storm by Kendall Kulper
Panic by Lauren Oliver
Broken Monsters by Lauren Beukes
Blackbird by Anna Carey
Tell Me Again How a Crush Should Feel by Sara Farizan
Falling Into Place by Amy Zhang
Anatomy of a Misfit by Andrea Portes
Tape by Steven Camden
Famous Last Words by Katie Alender
Vivian Apple at the End of the World by Katie Coyle
Rock Angel by Jeanne Bogino
Mortal Heart (His Fair Assassin #3) by Robin LaFevers
Conversion by Katherine Howe
Rooms by Lauren Oliver
Love is the Drug by Alaya Dawn Johnson
Unmarked (The Legion #2) by Kami Garcia
Glory O'Brien's History of the Future by A.S. King
Belzhar by Meg Wolitzer
Can't Look Away by Donna Cooner
Famous In Love by Rebecca Serle
Sinner (The Wolves of Mercy Falls 3.5) by Maggie Stiefvater
Get Even by Gretchen McNeil
Black Ice by Becca Fitzpatrick
Virgin by Radhika Sanghani
The Fire Artist by Daisy Whitney
Dead To Me by Mary McCoy
I'll Give You the Sun by Jandy Nelson
Afterworlds by Scott Westerfeld
I also received samplers of:
Atlantia by Allie Condie
The Mime Order (The Bone Season #2) by Samantha Shannon
In the Afterlight by Alexandra Bracken
Phew! I think that's everything!
Overall, my first BEA was an amazing experience and I hope I'm able to go again! I'd love to hear from other people who attended! Now I'm off to read all the other wrap up and book haul posts!