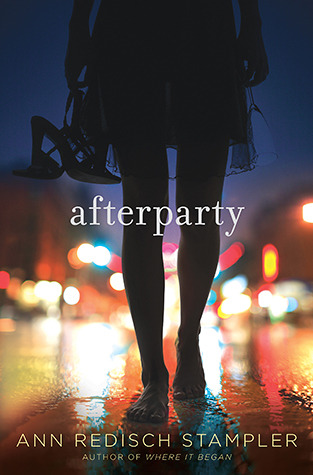 Afterparty
By Ann Redisch Stampler Source
Received from the author
Published by
Simon Pulse
on December 31, 2013
Received from the author in exchange for an honest review. This does not affect my opinion of the book or the content of my review.
Rating:

Cover image and summary from Goodreads:

Emma is tired of being good. Always the dutiful daughter to an overprotective father, she is the antithesis of her mother -- whose name her dad won't even say out loud. That's why meeting Siobhan is the best thing that ever happened to her...and the most dangerous. Because Siobhan is fun and alluring and experienced and lives on the edge. In other words, she's everything Emma is not.

And it may be more than Emma can handle.

Because as intoxicating as her secret life may be, when Emma begins to make her own decisions, Siobhan starts to unravel. It's more than just Dylan, the boy who comes between them. Their high-stakes pacts are spinning out of control. Elaborate lies become second nature. Loyalties and boundaries are blurred. And it all comes to a head at the infamous Afterparty, where debauchery rages and an intense, inescapable confrontation ends in a plummet from the rooftop...

This explosive, sexy, and harrowing follow-up to Ann Redisch Stampler's spectacular teen debut, Where It Began, reveals how those who know us best can hurt us most.
This is a book that I've wanted to read for a long time! It was a real page-turner, and definitely a recommended read.
I think we've all had a friend, or at least known someone like, Siobhan (perhaps not exactly like her, causing / getting into that much trouble): someone we find it difficult to say no to, and find ourselves easily caught up in that person's energy and excitement, which may make us do things we not have otherwise done. Emma's friendship with Siobhan develops quickly, forged over a mutual dislike of their classmates, and at first Siobhan was fun and exciting. Things turned dark though and she was demanding, unpredictable, and manipulative.
Emma's father, a single parent, was controlling, strict, and over-protective. As her friendship with Siobhan developed, Emma found herself lying to her father and deceiving him, sneaking out to drink and party.  She went back and forth between feeling guilty and feeling rebellious.
There was also a love interest involved, Dylan, although I didn't think he was all that great. But Emma was so sheltered and naive, so I tried to look at him through her eyes to see what she saw in him.
So we have good girl Emma, a toxic BFF, a super strict father, and a love interest who I couldn't quite get a read on. It made for some very interesting reading, and there were scenes where I was screaming at Emma in my head to just turn around and go home – forget partying with these losers! – but I think the teenager in me would have found a lot to identify with, e.g. wanting to be accepted by peers; wanting to have a best friend who would look out for you and do anything with you; wanting to rebel a little bit (although in the end Emma rebelled a LOT!). I wish I'd been able to learn more about Siobhan but alas, I didn't quite feel that I got a glimpse into who she really was.
Overall, while I didn't care much for Dylan and didn't get to delve deeper into what the heck was up with Siobhan, I liked the book. I really liked the writing and I knew that this was all going to build up to something terrible in the end, and I really couldn't put this down as I read it. I have some quibbles about the ending, and I'd love to discuss with someone else who's read the book, but I recommend this to fans of darker contemporary stories.