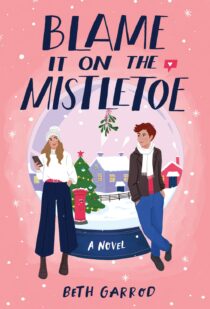 Blame It On The Mistletoe
By Beth Garrod Source
Received from the publisher
Published by
Sourcebooks
on November 2, 2021
Received from the publisher in exchange for an honest review. This does not affect my opinion of the book or the content of my review.
Rating:

Tweet Cute meets the movie The Holiday in this funny holiday rom-com where two very different girls swap lives for a Christmas adventure.

Elle is a social medial star with the #DreamLife...or so it seems. Determined to shake up her content and gain new followers, she's on a mission: can she find a British fan to swap with for Christmas?

Holly loves everything about Christmas. But after a mortifying mistletoe disaster with her ex, her perfect plans unravel like a bad Christmas sweater. Can Holly save the holidays when she switches places with favorite social media influencer?

Elle gets more than she bargained for when she meets the cute boy from across the street. And Holly wasn't expecting Elle to have a handsome twin brother. This holiday is full of surprises.
I was looking for a light read before Christmas, and this was just the thing! It felt like a YA version of the movie The Holiday, which I love, so I enjoyed this one!
While it was fun to jump back and forth between Elle and Holly's adventures, my favourite character was Holly. She was so overwhelmingly into Christmas that I immediately identified with and loved her! Her family and friends were fun, and I had a smile on my face at the very beginning reading her Christmas letter.
Elle's story was somewhat less interesting for me because I wasn't that into the social media influencer world she was part of, but the stakes were high for her and I was rooting for her to succeed.
This has romance, friendship, humour, a dog and a human with the same name, and a delightful Christmas spirit. Recommended!