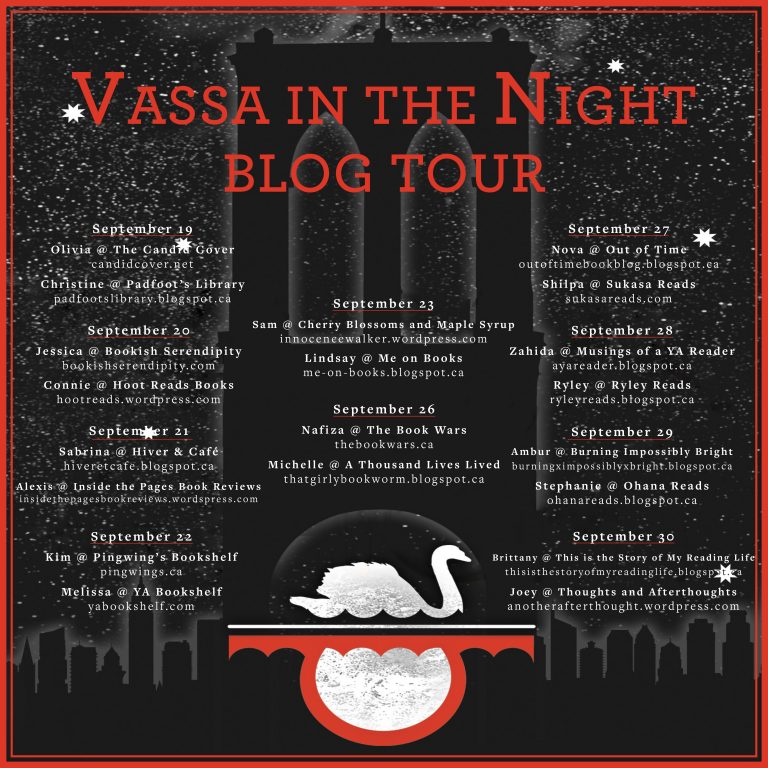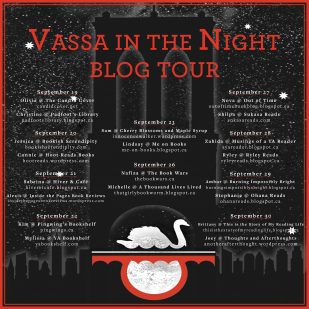 Hi! I'm excited to be participating in the blog tour for Sarah Porter's Vassa In the Night! Check out the synopsis below, and then read on for a Q&A with Sarah, and my review – and be sure to check out the other tour stops!
In the enchanted kingdom of Brooklyn, the fashionable people put on cute shoes, go to parties in warehouses, drink on rooftops at sunset, and tell themselves they've arrived. A whole lot of Brooklyn is like that now—but not Vassa's working-class neighborhood.

In Vassa's neighborhood, where she lives with her stepmother and bickering stepsisters, one might stumble onto magic, but stumbling out again could become an issue. Babs Yagg, the owner of the local convenience store, has a policy of beheading shoplifters—and sometimes innocent shoppers as well. So when Vassa's stepsister sends her out for light bulbs in the middle of night, she knows it could easily become a suicide mission.

But Vassa has a bit of luck hidden in her pocket, a gift from her dead mother. Erg is a tough-talking wooden doll with sticky fingers, a bottomless stomach, and a ferocious cunning. With Erg's help, Vassa just might be able to break the witch's curse and free her Brooklyn neighborhood. But Babs won't be playing fair. . . .

Inspired by the Russian folktale Vassilissa the Beautiful and Sarah Porter's years of experience teaching creative writing to New York City students.
Sarah was kind enough to answer a question I had for her! Because Vassa in the Night was inspired by a folktale, I was curious about what her favourite folktales and fairy tales were growing up, and which ones are her favourites now.  Her answer is below:
I grew up with Pace Wheeler's Russian Wonder Tales; they were my favorites as a kid, and that hasn't really changed. A lot of books I loved growing up, and still love, have fairy and folk elements in them, like George MacDonald's THE PRINCESS AND THE GOBLIN. I didn't get it as a kid, but now it seems obvious to me that Irene's grandmother is a version of the moon goddess. I've also always loved "Thumbelina" and other Hans Christian Andersen stories. There was a copy of Thumbelina with lenticular illustrations that I was absolutely obsessed with at age seven or so. Another book I love that isn't exactly a fairytale, just very fairyish, is Maeterlinck's THE BLUEBIRD. It was a classic once and now it's mostly forgotten, which is a terrible shame. If I were rich, I'd want to make a hallucinatory movie based on it.
Thank you Sarah for answering my question! I remember reading some Hans Christian Andersen stories as a kid, and I'd like to go revisit them now that I'm older.
Read on for my review (and thank you to Raincoast for the ARC)!
Source: Received from the publisher, for free, for review consideration. This does not affect my opinion of the book or the contenct of my review. 
Author: Sarah Porter
Publication Date: September 20, 2016
Published By: Tor Teen
My Rating: Somewhere between 3.5 – 4 out of 5 stars!
I was so intrigued by this book as soon as I heard about it. Vassa In the Night sounded so different and unique.
This definitely turned out to be a unique story! I had no idea what to expect, and even once I started to read and got into the story, I wasn't really sure what was going on! This was such an interesting book because that feeling of uncertainty about where things were going and how Vassa was going to accomplish her tasks kept me on the edge of my seat.
I really liked the darkness and occasional gruesomeness of the world that Sarah Porter has created in this book. And knowing how high the stakes were, and seeing the consequences that befell people who came into Babs' store, kept the tension so high! I also liked Erg, Vassa's doll – she had such attitude and was really funny at times.
At times, despite my interest in the story, I found myself totally confused. I don't know if familiarity with the folktale that inspired this book would clear up some of that confusion, but it was a bit difficult to get invested in the story during those moments where I truly felt like I had no idea what was going on.
Overall, Vassa In the Night was a wild ride of a book: dark, fun, and unpredictable. Recommended!